The Different Types Of Featured Snippets And How To Get Them?
The Different Types Of Featured Snippets And How To Get Them
If you handle marketing for a small business, you know how difficult it can be to optimise your content to attract traffic to your website. Even the finest content might need the plan to rank at the top of a SERP. Nevertheless, there are a few things you can do to improve your chances of being noticed. Featured snippets are one of the most effective methods to draw attention to your content. Google offers highlighted snippets to swiftly and directly answer user inquiries. On a SERP, they appear before the top organic search results for a term. Such snippets can help you gain visitors and broaden your reach if you can acquire them.
Featured Snippets are textual excerpts displayed at the top of Google's search results to respond swiftly to a searcher's inquiry. The content of a Featured Snippet is mechanically retrieved from web pages in Google's index. Definitions, tables, steps, and lists are all examples of Featured Snippets. For example, here's a screenshot of a Google-highlighted snippet: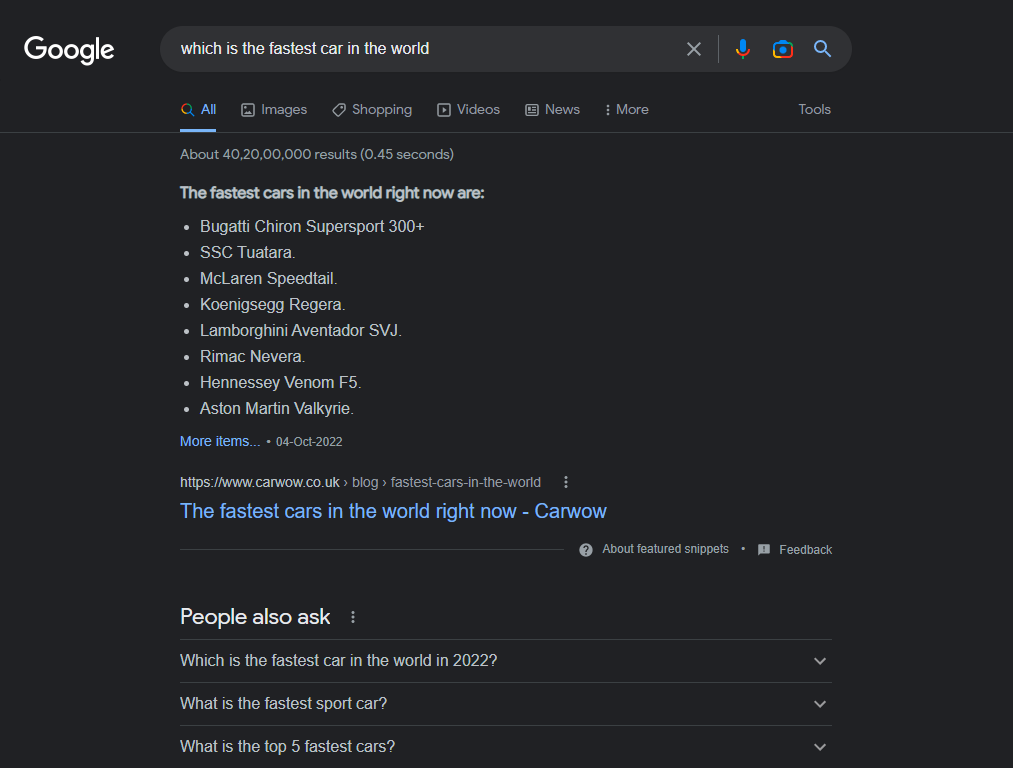 Paragraphs, tables, lists, and videos are the four categories of highlighted snippets. Each can be beneficial in increasing the search volume for your website. We'll go over what featured snippets are, why they're so powerful for driving traffic, and how you can arrange your content to offer yourself the best chance of obtaining them in this straightforward post.
When featured snippets were introduced in 2014, they rapidly became a symbol of new hope for many SEO professionals trying to dominate "position zero." Earning a highlighted snippet is used to indicate higher SERP exposure. On January 22, 2020, Google began eliminating duplicate URLs from SERPs including highlighted snippets. This modification, along with observations that featured snippets somewhat lower overall clicks to organic search results, has forced several SEO professionals to reconsider whether landing featured snippets is still worthwhile. To be fair, Google has lately implemented a big shift that appears to benefit both consumers and publishers.
Now that we have a good idea of what featured snippets of Google are and how they are extremely valuable to the searchers, we should further explore the four types of featured snippets. Later in the article, we will even learn more about how you can get featured in Google's snippets yourself, through a popular blog that answers very specific questions about topics that are tremendously popular.
A Deeper Dive Into The Four Types of Featured Snippets
Let's say that you have a popular search query that you want to target. The way Google manages to categorize it into one of the four types of features snippets that there are. Google evaluates the query, tries to match its results to the user's purpose, and selects the best extract it can extract from existing content to enhance the user experience. That indicates "Position #0" is available. But why would you want your content to rank first on Google?
Featured snippets include a link to the source website and, in general (depending on the content and a number of other criteria), improve the traffic volume of your website. They are just as effective for local websites as they are for those with a larger reach, which is something to keep in mind if you are optimising for snippets yourself or employing local SEO services.
Paragraph Snippet
When you search for questions with the words "how-to," "who," "why," "what," and so on, you will typically find paragraph excerpts. This snippet offers consumers a concise, practical definition or information about a certain issue. Certain enquiries focus around asking questions or looking for further information. Definition boxes are also included. These are for simple questions in which visitors are looking for the fundamental meaning of a term or concept: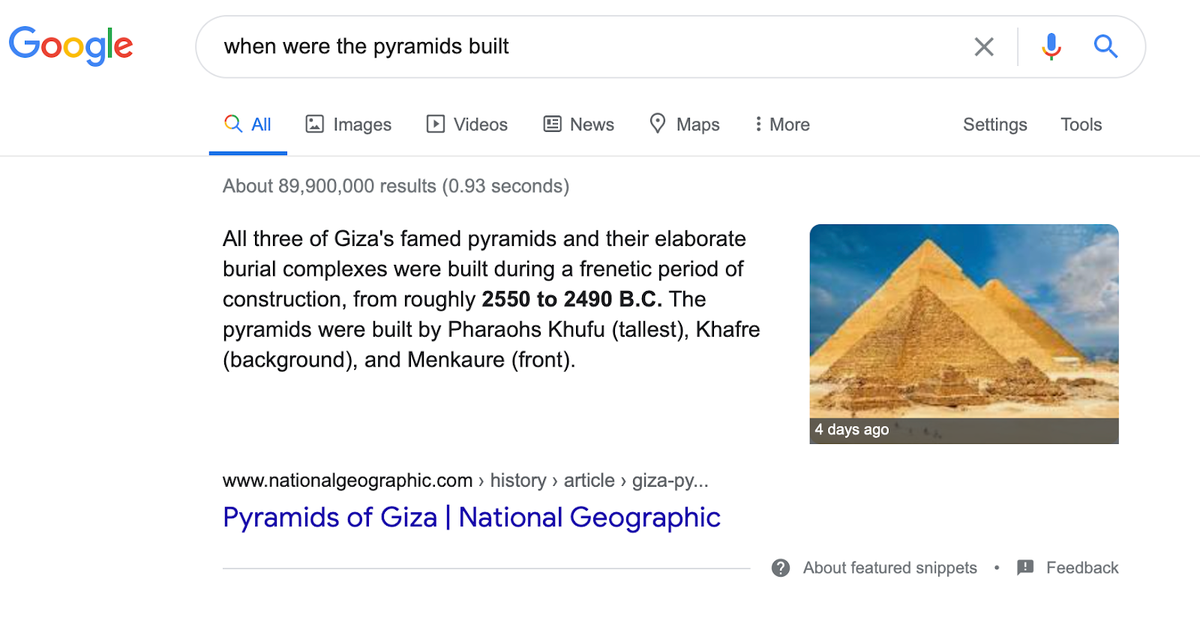 Table Snippet
Table snippets are surprisingly common, accounting for 29% of all snippets. Google enjoys demonstrating its skills with these. It doesn't only collect the information and style it; it can also pull the precise information the user is searching for and generate its own table, as shown in the example below.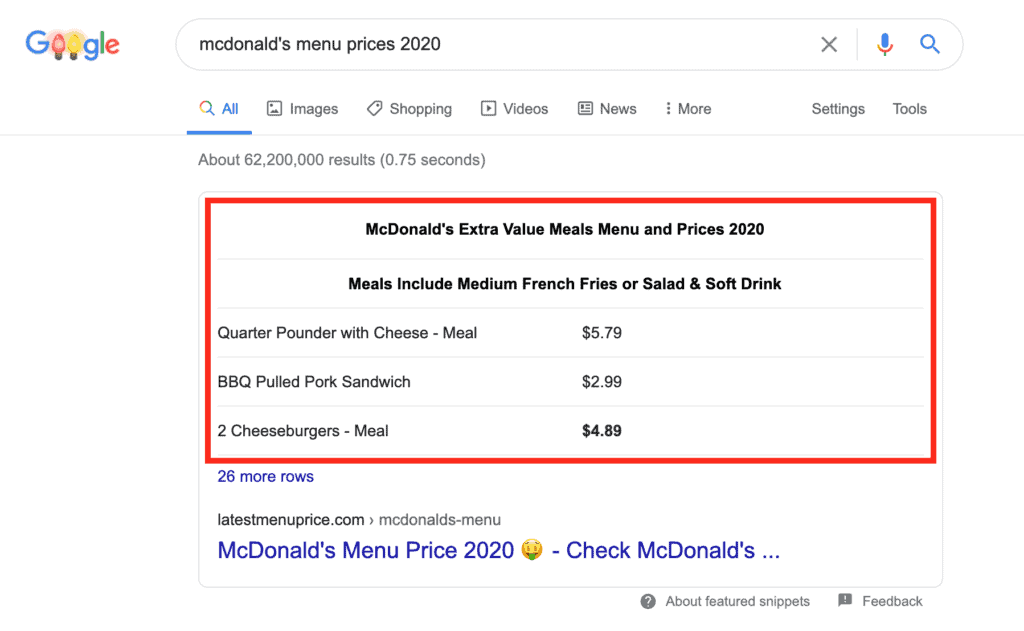 List Snippets
Lists can be used to rank items, depict process processes, or distinguish various goods. A list of highlighted snippets can be arranged or unordered, and bulleted lists are available for both ranked and unranked items, features, and "best of" lists. These highlighted snippets frequently describe stages that illustrate how to perform something, such as recipes.
This is a list of items presented in a specific order. Google tends to use Ordered Lists for queries that need a set of steps. The example below is wonderful since it's immediately evident that this will walk you through the procedure step by step, but searchers are likely to click through to see supporting photographs or read further information.
Video Snippets
YouTube is one of the world's largest search engines, so it's no surprise that video-featured snippets are something else you'd want to strive to rank for. If a video gives the best response to a user's question, it will be included in a snippet. For "how-to" questions, video-highlighted snippets might be handy.
Think outside your website when considering highlighted snippets. Google also scrapes them from YouTube. So make sure your videos are optimised for selection. Snippets of videos are also displayed. They are either completely featured or Google presents you with a suggested clip.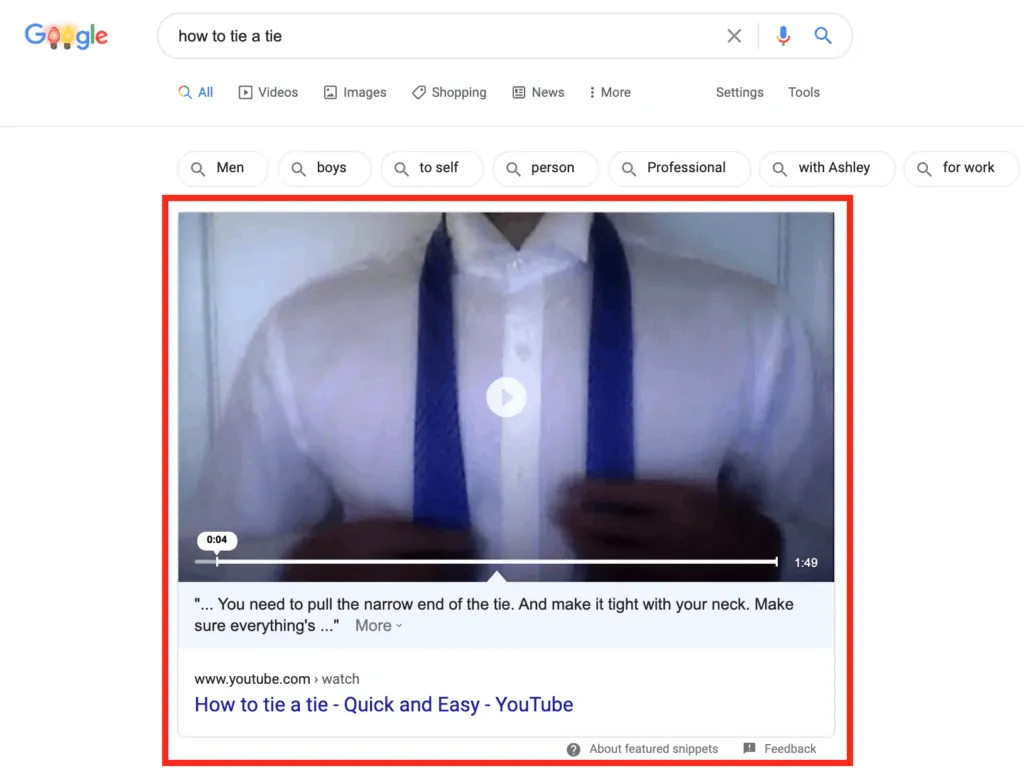 Another Type of Google Featured Snippet
Apart from the four mainstream featured snippets, Google also has a major, but not-so-common featured snippet as well.
Double Paragraph Featured Snippet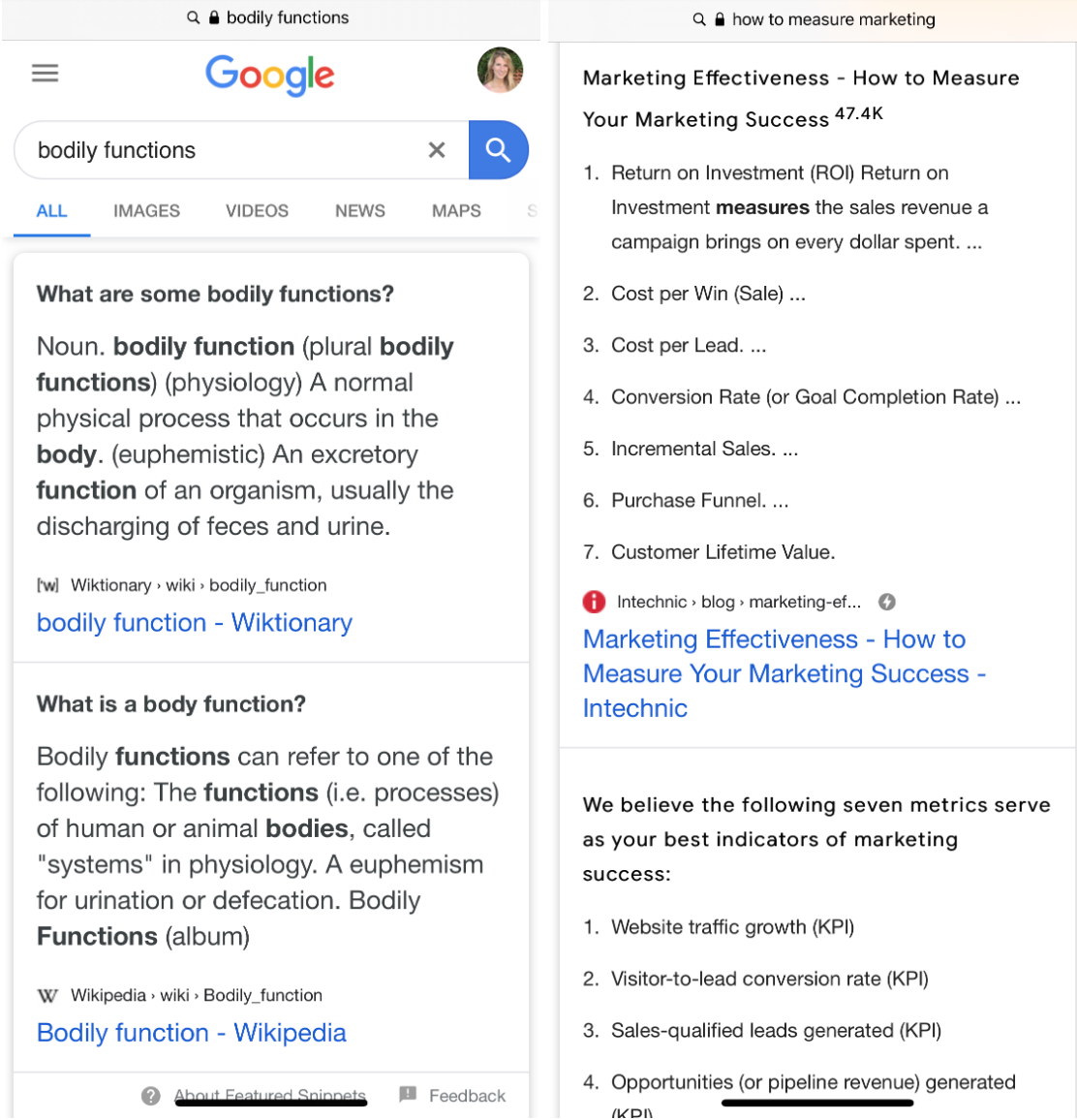 The double-featured snippet is exactly what it sounds like: Google displays two featured snippets rather than one. Google is attempting to cover its bases with these snippets. If their first highlighted snippet doesn't fulfil the user intent for a certain query, they're hoping the second will. The good news about double-featured snippets is that your chances of getting featured are doubled. The bad news is that if you are in positions 3 through 10, your click-through rate drops dramatically.
How to Optimize For Featured Snippets?
The first step is to find a search results page with a Featured Snippet. That way, you KNOW Google intends to display a Featured Snippet for that phrase. You can also see what form of Featured Snippet Google intends to show for that phrase, making optimising your website for that sort of Featured Snippet a breeze.
Optimize For A Specific Type of Featured Snippet
To optimise for paragraph snippet, you must give Google a short (40-60 word) text snippet that they may utilise immediately in the Featured Snippet. It also helps if you put "What is X?" right above your definition. The only other thing to remember is that your definition should be objective. In other words, don't include a viewpoint on the subject. Remember that Google does not want opinions to appear as definitions. So, even if you have strong feelings about the subject, try to write the definition without passion. Write the term as if it were a dictionary entry.
Use Keyword Research to Find SERPs With Featured Snippets
Keyword research is essential for any SEO plan. It can assist you in determining what sort of material you should create to be recognised. It can also help you find particular searches that already rank for "Position #0" in the case of highlighted snippets so that you can go after them. There are several methods for identifying the best keywords for highlighted snippets. The initial step is to manually enter queries and examine the results. If you have any suggestions for keywords for your business or website, enter them into the search field and see what shows up.
Keyword research will also assist you in focusing on other facts relating to keywords. You may use tools such as people also ask (PAA), top stories, and information panels to see what queries people look for and useful information. Once you've decided which keywords to target for featured snippets and developed content around those phrases, you can utilise Position Tracking to track your progress.
Conclusion
As Google becomes smarter and more people use voice search, featured snippets will appear for an increasing variety of searches. Anyone may obtain one of the coveted highlighted snippets. You now understand how to get started. So start optimising!
Learning a few tips and talents for expanding your reach can help your firm develop significantly. Remember that increasing organic traffic takes time, but if you establish and implement plans to raise your impact on a constant basis, you'll offer your company the best chance of succeeding.