Low Search Volume Keywords Are They Worth The Time?
Low Search Volume Keywords: Are They Worth The Time?
Keywords labelled "Low search volume" have relatively low search traffic on Google, indicating that they are not highly pertinent to the majority of consumers' queries. If the frequency of web searches for such keywords grows even slightly, they will be activated and your advertising will begin to appear again. The condition is checked and updated on a regular basis by Google's software.
For example, the keyword may be judged as excessively particular or vague, or it could be drastically misspelt. By keeping certain terms out of the ad market, Google Advertisements can deliver ads more effectively and the amount of keywords on Google's servers is reduced. When allowing a term to enter the auction, our technology examines the number of queries on that keyword globally over the previous twelve months.
Low search volume terms imply low online traffic flow on search engines. Nevertheless, there are advantages to employing terms with low search numbers. They are more topical, and you may acquire great leads from them. Most SEOs and advertisers prioritise high-volume keywords above low-volume keywords. However, it's worth remembering that low-volume keywords might still get you traffic.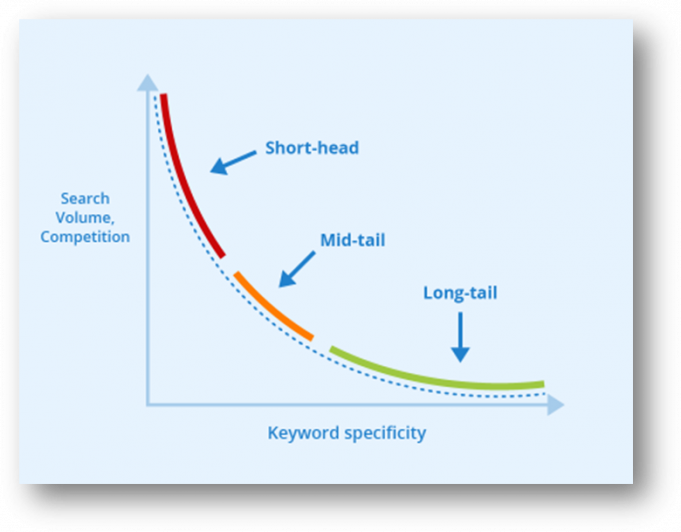 Including low-volume keywords in your text has no negative consequences for your SEO. Low-volume keywords, on the other hand, are extremely relevant. They have higher quality leads, a higher return on investment (ROI), and swiftly outrank your competition. But what is search volume in the first place?
What Is Keyword Search Volume?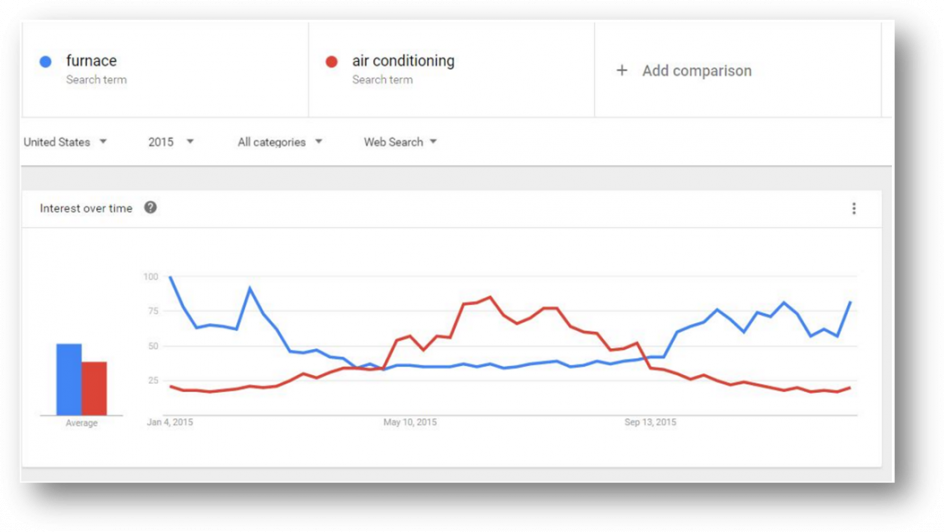 The phrase keyword search volume refers to the number of times a specific keyword is searched for during a given time period. The measurement is used to determine how much traffic a specific keyword may produce for a website. It gives advertisers a broad sense of how competitive a search phrase is.
Term search volume is an SEO indicator that indicates how frequently a certain phrase is googled for in a given place on a monthly basis. Search volume is frequently employed to refer to the volume of Google searches, although it can also relate to other search engines.
The volume of keyword searches is an important measure in search engine optimization (SEO). It is the number of occasions a certain term gets searched for in a given time period. One must evaluate keyword search volume while creating a new website, creating a pay-per-click (PPC) marketing campaign for your Google AdWords account, or conducting keyword research to drive greater organic traffic to your current website in the hope of recruiting new consumers.
Why Do Some Keywords Have a Low Search Volume?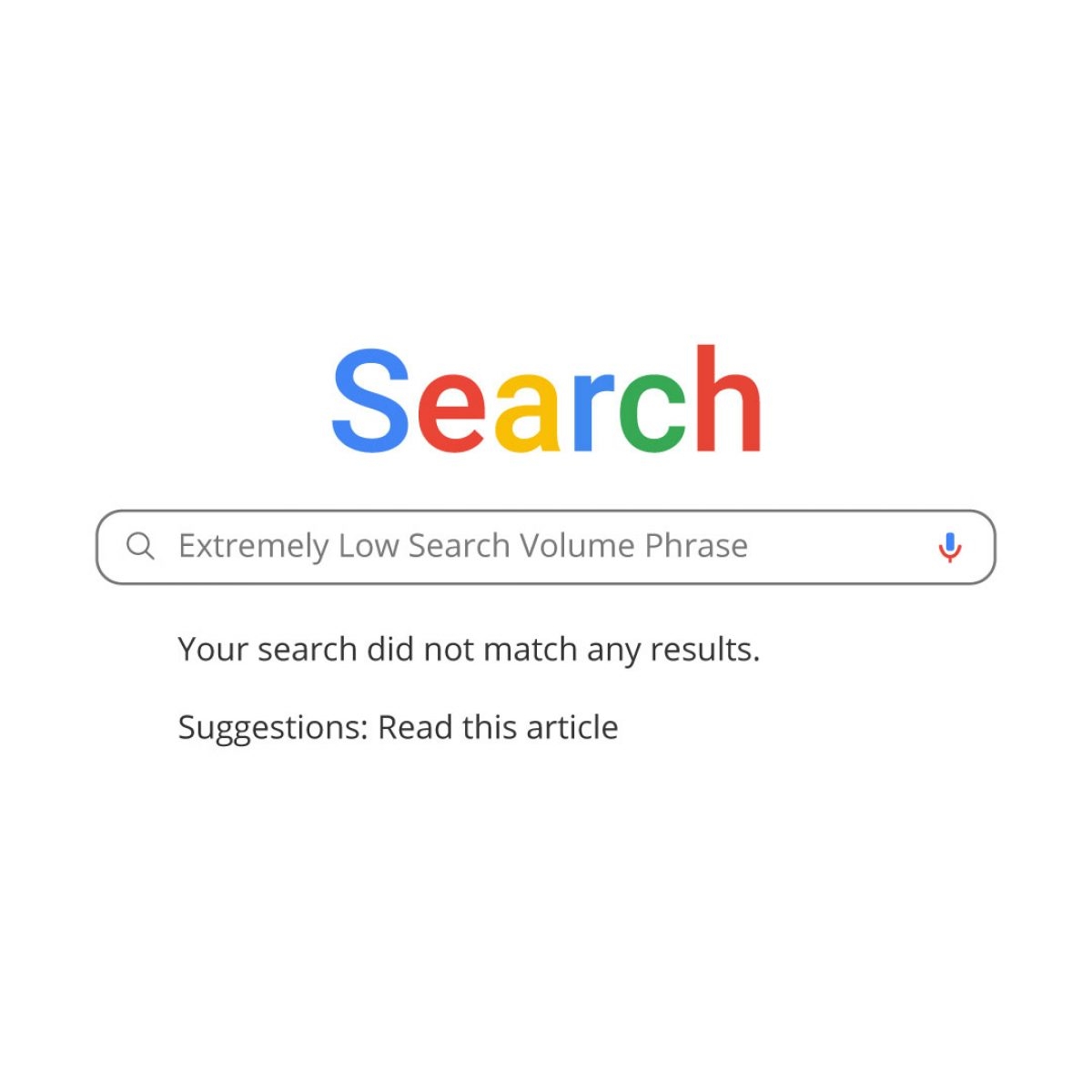 Keywords with low search volume suggest that certain keywords receive little traffic from search engines. This might be due to a variety of factors. They may not be relevant to the majority of user searches. They might also be overly descriptive or ambiguous. There could be limited possibilities for why some keywords have low search volume, but the fact is that there are, and are used by professional SEO experts.
Create that resource page, journal, or whatever other low-volume keyword material, but make sure it's optimised. Targeting low-volume keywords may frequently lead to a lot of success. Low-volume keywords are an excellent method to start and grow a new speciality. These keywords provide a one-of-a-kind opportunity to research competitors and target their flaws. You may read our SEO case studies to learn more about our function as a dependable and perfect equality for industrial and production companies.
Practical Use of Low Search Volume Keywords
Let's look at an example to see how low-to-no search volume inquiries might be valuable. It's vital to remember that search volume doesn't equate to clicks – just because a keyword receives thousands of searches per month doesn't indicate your information is relevant to that search or that you'll generate traffic from it. Keep in mind that search volume does not equate to traffic.
Assume you are the SEO manager for a software firm that provides a project management product and wants to enhance organic exposure and sales. When conducting keyword research, you may encounter the following keywords, among others:
1. "Project Management," which receives 74,000 monthly searches
2. "Online Project Management Tools," which receives just 590 monthly searches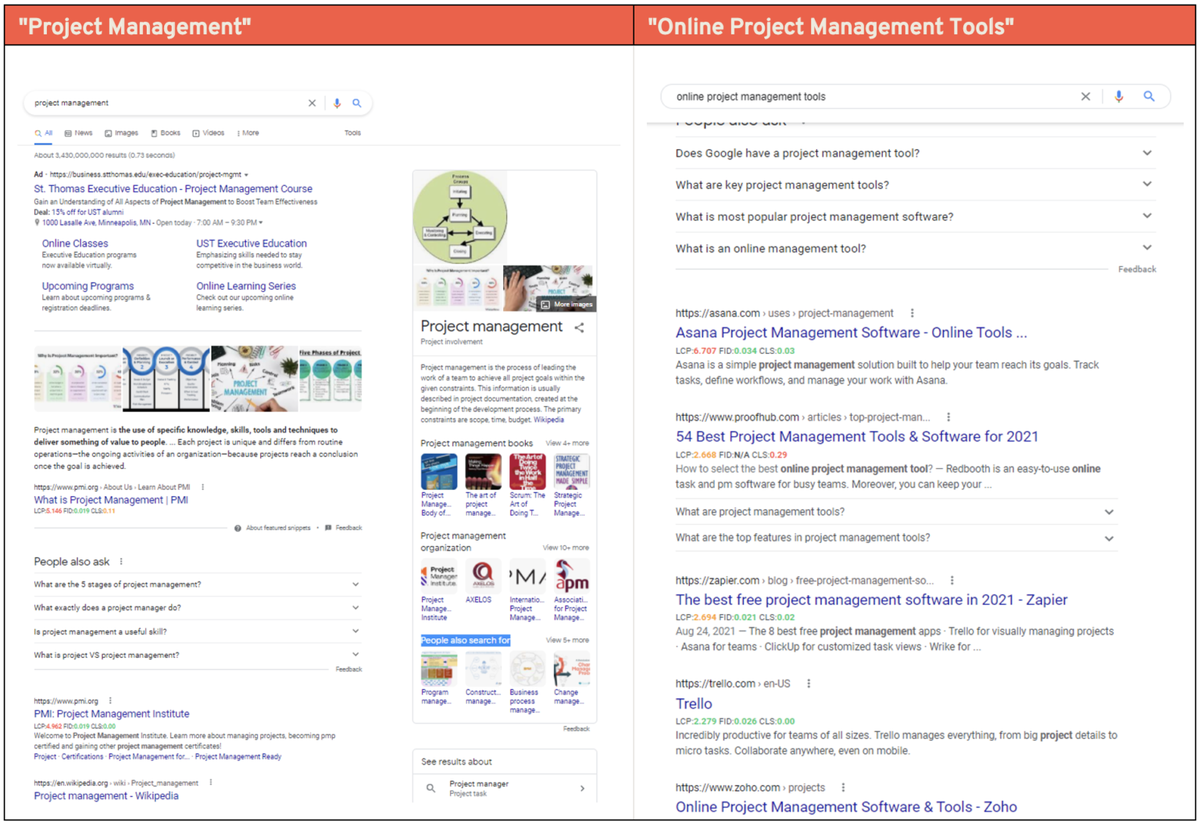 An individual who googled "project management" is unlikely to be interested in (or ready to enrol in) an online project management degree programme. More likely, they are looking for keywords like "What is project management?," Project management jobs," or "Project management training or degree programs."
A person googling the phrase "online project management tool" is a significantly more appealing possibility for a software firm or tool supplier than one looking more widely. This happens because we may assume that users are looking for a tool or solution instead of high-level program management knowledge. While these comprehensive searches generally have lower search volume, converting just one of the tool-specific searchers is potentially a major success for a "no opportunity keyword."
How To Target Low-Volume Keywords?
Determine and concentrate on the low-hanging fruit. Those would be the keywords you've ignored but are convinced you can rank for over time. Such phrases should also be cost-effective in terms of performance.
Check for relevance. Only use low-volume keywords that are 100 percent related to your company. Consequently, finding low-volume keywords and wasting time and money is futile! You can rank for several associated keywords and earn much-needed website traffic if you have a varied low-volume keyword core.
Utilize a tiny and fresh niche. One of the main reasons a niche does not create much attention is that it is fresh and people are ignorant of its existence. When confronted with such a dilemma, strive to expand on the search query it intends to resolve while increasing brand recognition.
Assess the cost v. potential reward. If you need to use AdWords and Pay-Per-Click to boost your discovery chances, it's important to calculate the costs and the benefits accrued. If you spend more than you're acquiring, consider holding back and building gradually.
The volume of a keyword is estimated using SEO tools. SEO tools frequently utilise clickstream analysis to predict search traffic. They have erroneous predictions, particularly for lower traffic terms.
Benefits of Utilizing Low-Volume Keywords for SEO
Concentrating only on search volume when picking content subjects or keywords might lead to a loss of organic traffic, increased competition, and a focus on customers at the top of the funnel (not ready to convert). When choosing a topic, consider additional variables including relevance, purpose, and competitiveness in addition to or instead of search traffic. This will likely help you with robust, diverse exposure throughout the organic environment.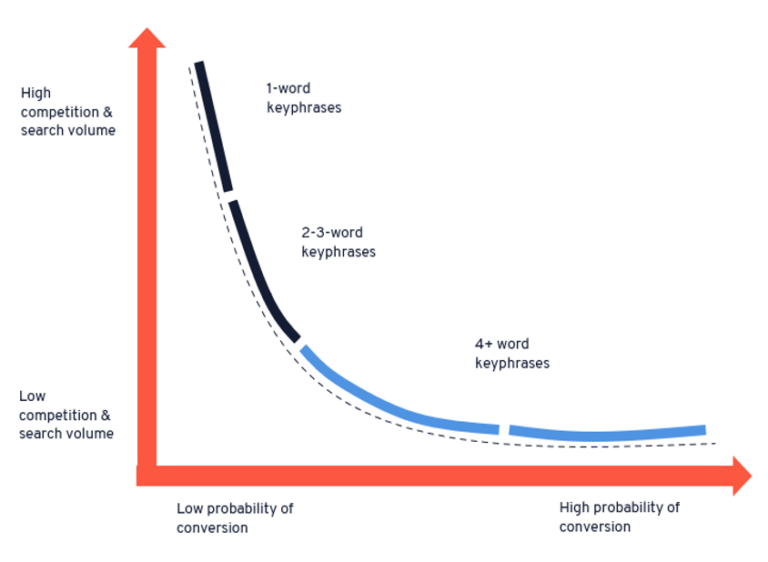 The Search Demand Curve
However, the question of why I should target lengthy, low-volume keywords emerges. There are several advantages to including low-search-volume phrases in your SEO plan.
They are really important. Long-tail phrases are low-volume keywords that are extremely pertinent to your intended audience. Furthermore, because they provide more data, these inquiries are often more focused. This is significant since consumers are more likely to respond when the material is relevant.
They often face less competition. Low-volume keywords frequently provide you with a one-of-a-kind chance to target themes that are very relevant to your audience – topics that your rivals are unlikely to approach at all.
They aid in generating interest. Low-volume keywords might help you generate interest in a tiny or new niche.
They broaden your SEO approach. Your material can score for a wide range of low-volume phrases at the same time, increasing your load testing.
They usually have more economic aims. You may profit from specialised "purchasing" keywords that attract customers who are ready to purchase your goods or join up to work alongside you. Although you may not receive thousands of additional users every month, you will have a high chance of ranking for that phrase and turning a small percentage of those people into clients. These adjustments can add up to a significant disparity.
They start to add up. Whenever low-volume keywords are combined, they offer a substantial volume of user intent. Low-volume keywords create great attention and travel up organic traffic due to their expertise and depth. In fact, some market surveys indicate that these long-tail keywords account for 60-70% of all internet searches. That implies that prominent, high-volume search phrases, on which many firms focus, contribute to just about 30-40% of all web searches.
Conclusion
Low search volume keywords can not only be utilized by SEO experts but also by core marketers. Focusing only on search volume when picking content subjects or keywords might lead to a loss of organic traffic, increased competition, and a focus on customers at the top of the funnel. When choosing a topic, consider additional variables including relevance, purpose, and competitiveness in addition to or instead of search traffic. This will help position you for strong, diverse exposure throughout the organic landscape.
If you want to identify the most appropriate terms with low search traffic, you must conduct extensive keyword research. The keyword research should be guided by three essential factors: your location, target audience, and niche. Achieving these three crucial variables perfectly assures that you get more visitors, sales, and ROI. Nevertheless, while developing online material for your websites, make sure to incorporate long-tail keywords as well.