Alternatives of AnswerThePublic
Have you ever wondered how Google is so quick to autocomplete your searches? Within seconds you can view a great deal of suggested searches while you're still typing into the search engine. This is the result of continuous piling of consumer data over years. Google records billions of searches from all around the globe. A daily estimate of about 20% of these searches are completely new. AnswerThePublic is split into various categories- what, why, who, where, which, how, can, are, etc. These branch out into a wide number of search result suggestions. Simply, it autocompletes searches in an image called a search cloud. By using both long-tail as well as common phrases, you can find the most relevant searches from your users.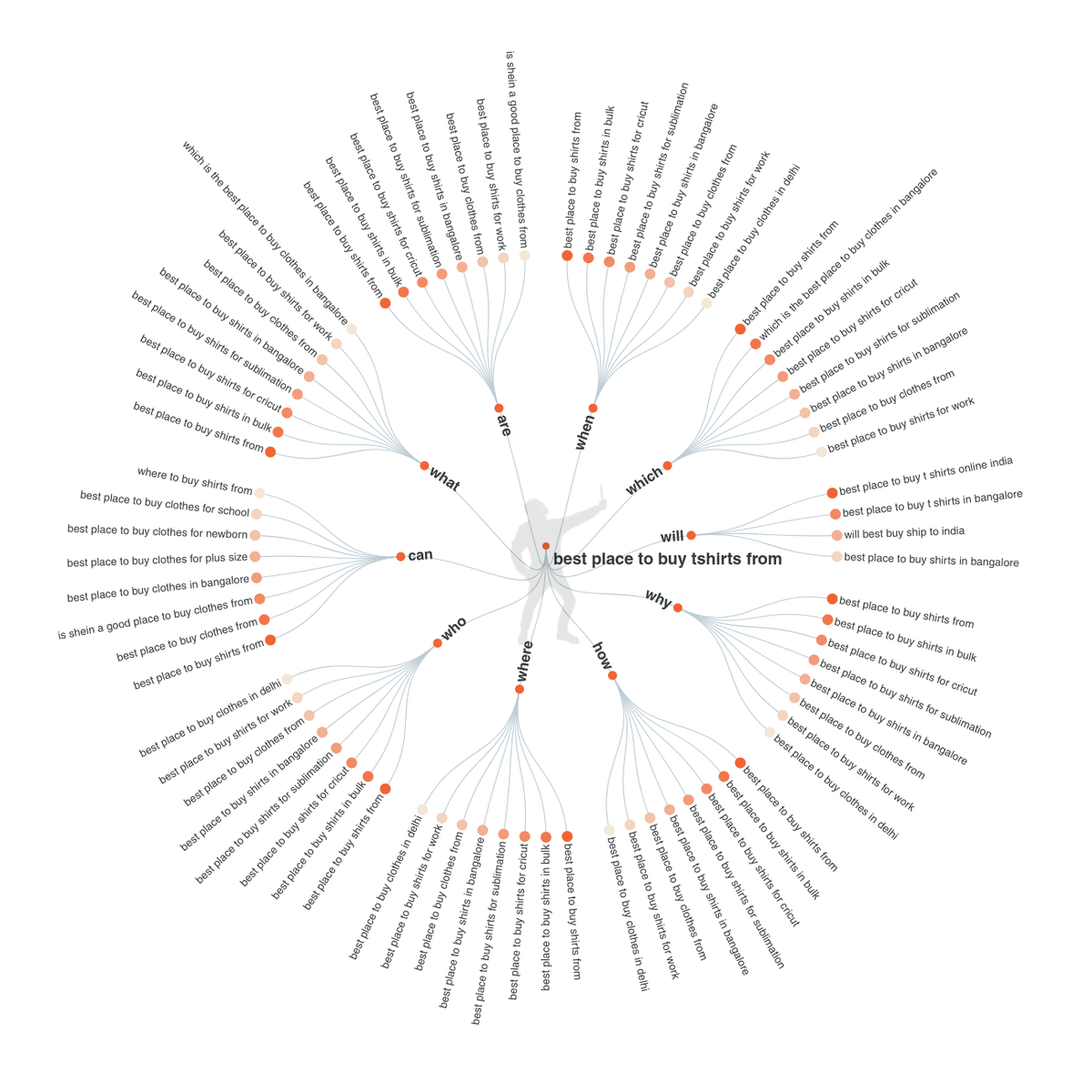 You can use long-tail key phrases to grow your organic traffic. If you have a set of such phrases like "How to increase organic traffic" or "How to improve my website's exposure", it can actually be beneficial in terms of attracting a larger set of audience. But even when you do this, it would be more expensive to do paid ads for them than it would be to rank high on organic search. You can get a wide number of keyword results for such types of searches. With these specific keyword results, you can optimize content in your user guides, FAQ sites, Google snippets and landing pages. Let's take a look at Google snippets and how they can benefit your website.
What is a Google snippet?
Google snippets come from web search listings and comprehensive algorithms. Google's automated systems determine whether any online site would make a good little featured snippet which can be highlighted for a specific search request, usually under the 'people also ask' section.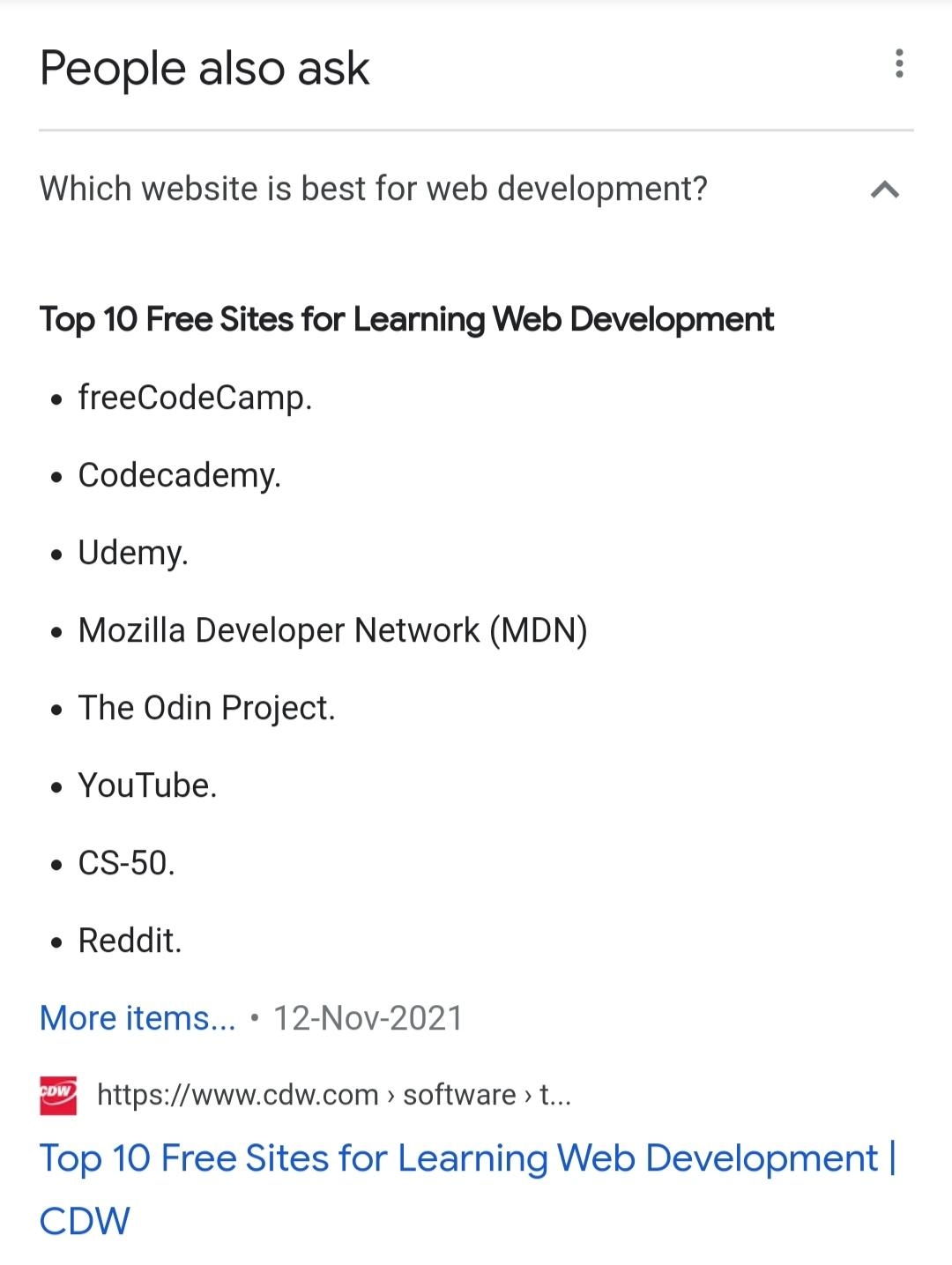 By typing in "best websites to learn web development", Google uses its listings to come up with a little snippet as above where the user can acquire enough information without having to visit the website. By getting your website listed as one of these, it can boost your authority and exposure to a wider range of audience. One way to do this is by providing list-style answers on your page which directly answers the public's question.
Another tip is to properly optimize for questions that use simple and easy language. It would be good to remember that searches are increasingly performed through voice search on google and not just through typed terms.
Creativity goes a long way!
Suppose you look up a question, say, "How to lose weight quickly". There will be a bunch of health and fitness pages which pop up instantly with solutions to your search. Which site will you choose? One which catches your interest! You would definitely be more inclined to looking up the site that says "10 effective and healthy steps for fat loss and muscle gain" than a site with this headline "How to lose weight soon". That being said, your content must be relevant and true to its word so that you're not misleading your audience.
Now that we've understood what Answer the Public is, we will list out its alternatives which can be used in place of Answer the Public.
8 sites as good as AnswerThePublic
1. Conductor
Rating: 4.5/5
Year Founded: 2008
HQ Location:NYC
Find them on Twitter: @Conductor
Description: Conductor is a highly technical platform which makes use of its Searchlight to reveal customer intent insights, thereby increasing website traffic and providing exclusive content and a high organic marketing ROI. It helps marketers to understand their consumers by the trends and topics of their searches. Ranked #38 by Inc. Magazine, some of their customers include Samsung, Citibank, Slack and Shiseido. Conductor is an easy-to-use, comprehensive SEO platform which helps boost search engine rankings as well.
Compared to AnswerThePublic: Conductor is better at support as well as more efficient at meeting requirements.
2. Semrush
Rating: 4.6/5
Year founded: 2008
Phone: 1-855-814-4510
HQ Location: Boston, MA
Find them on Twitter: @semrush
Description: Semrush is a software service platform that provides online visibility management. Semrush has over 10 million users, 142 geographical databases and 43 trillion backlinks. Semrush is the place for all those companies who need more online exposure. It can be used for free but to access their premium tools, an amount of $119.95 is charged per month. Semrush is used worldwide and supports a bunch of different languages such as German, English, French, Italian, Japanese, Portuguese, Spanish and Chinese.
Compared to AnswerThePublic: Semrush is better at meeting requirements and is cheaper as well.
3. Ahrefs
Rating: 4.6/5
Phone: 1-347-809-6773
HQ Location:Singapore
Find them on Twitter: @ahrefs
Description: Ahrefs is an SEO toolset that can help anyone do better than their competitors, drive more search traffic and optimize their website effectively and easily. They support a variety of languages like German, English, French, Italian, Japanese, Dutch, Polish, etc. Their databases house over 11 million keywords and 400 billion indexed pages. Thus, providing unparalleled accuracy and optimization to its users. For the Lite tools, Ahrefs charge $99 per month while its Webmaster tools are free of charge.
Compared to AnswerThePublic: Ahrefs is better at meeting any client requirements at a lower price.
4. SE Ranking
Rating: 4.8/5
Year Founded: 2012
HQ Location: Palo Alto, CA
Find them on Twitter: @SERanking
Description: SE Ranking – all-inclusive SEO software aimed for use by small businesses, SEO pros and digital agencies. In short, this platform can be described as easy to use, high accuracy, and widely scalable. It deals with online marketing projects and provides a wide variety of tools for the same. SE Ranking has a couple of highly required salient features like keyword research, website audit, competitor analysis, keyword suggestion and grouping, backlink monitoring, etc. Their price structure varies as per the needs of the customer. The SE Ranking essential package is priced at $23.40 while their pro package costs $53.40.
Compared to AnswerThePublic: SE Ranking is ranked higher at customer support and better at meeting user requirements.
5. Moz Pro
Rating: 4.4/ 5
Year Founded: 2004
HQ Location: Seattle, WA
Find them on Twitter: @moz
Description: Moz Pro offers a variety of SEO analytical tools which help boost your online visibility, putting you ahead of your competitors. Moz Pro starts at $99/month (standard) going up to a premium of $599/month with the option of a 30-day free trial. Moz Pro caters to your need for research tools that analyze your competitors' actions and intentions, actively participate in your keyword research process and help in revealing any options for link building outreach. It supports only the English language but is still used worldwide across a number of countries.
Compared to AnswerThePublic: Moz Pro ranks higher in relevancy.
6. Act-On
Rating: 4.1/ 5
Phone: +1.877.530.1555
HQ Location: Portland, OR
Find them on Twitter: @ActOnSoftware
Description: Act-on is a marketing platform that can be incorporated into an organisation of any size. Notably, it has been developed by marketers for marketers, making it highly scalable. This platform is very flexible to your needs, easy to implement and has an exceptional customer support team who work tirelessly to provide top notch service to their customers. Act-On makes use of leading CRM systems and web conferencing, intent reporting and dynamic lead scoring. This has received a positive response from the users and thereby highly recommended. Their professional monthly package amounts to $900 and their enterprise package is priced at $2,000/month.
Compared to AnswerThePublic: Act-on provides a quick response as well as employs a great customer service team.
7. Similarweb
Rating: 4.5/ 5
HQ Location: New York
Find them on Twitter: @SimilarWeb
Description: Similarweb helps in recording and analysing competitors' marketing strategies. In addition to this, they are also instrumental in recording consumer behaviour by recognising trends and consumer intents. They focus on real world keyword searches, making their data fresh and comprehensive, and covering app metrics, conversion insights and segment analysis amongst numerous other services. They offer free services for their customers, also providing an option for a paid professional or enterprise package which is custom priced. This platform supports English, French, Japanese and simplified Chinese. Similarweb enables us to understand how customers truly behave to a greater extent.
Compared to AnswerThePublic: Similarweb is cheaper and a lot more insightful in respect to consumer intents.
8. Spyfu
Rating: 4.6/ 5
Phone: (888) 201-0422
HQ Location: Scottsdale, AZ
Find them on Twitter: @spyfu
Description: Putting it plainly, Spyfu reveals the search marketing secret strategies of your competitors. It is an SEO and PPC intelligence tool that helps you get ahead of your competitors. This can be done by typing in a domain and finding out all the keywords that it ranks for, the number of Google ads they buy and the strongest competition. In this manner, Spyfu exposes them, allowing you to get insights into their strategies while you improve on your own. They charge $39/month for the basic services and $99/month for their professional package.
Compared to AnswerThePublic: Spyfu is better at meeting any consumer requirements and has a good support team.
So go ahead and try them out, you will not be disappointed!