What Are Google Search Partners And Why Do They Matter?
What Are Google Search Partners And Why Do They Matter?
To begin, whenever we discuss Google Search Partners, we don't mean any marketer that chooses Google as their PPC provider. It's different from every business that advertises on Google as a Google Search Partner. Google Search Partners is effectively a network of various pages, corporations, and search engines on which Google is permitted to display advertisements. Google describes its service of Search Partners as those websites in Google's search network that partner with Google to show ads and free product listings. Search partners extend the reach of Google Search ads and listings to hundreds of non-Google websites and YouTube and other Google sites.
The main question is here whether businesses should use Google Search Partners or not. The simple answer would be yes…if you know how to leverage it well. I assure you, by the end of this article, you will know very well how to navigate through Google Search partner's console, and how to leverage it for your online business, amongst many other benefits of this impeccable service of Google. By design, when you establish a new search strategy, you have opted into the display network and search partners. This permits your advertising to display on Google domains (such as YouTube and Google Maps), firms with which Google has collaborated (such as Amazon and eBay), and also other online businesses that offer ad spots.
Google does not release a comprehensive list of search partners, but websites that display these advertisements must opt-in and earn a portion of the advertising income in exchange. The Google Search Works network may be a great tool for getting more website visitors and leads by expanding your ad campaigns outside search engine results pages (SERPs) and onto more websites that Google operates or affiliates, or in better terms, 'partners' with. It enables you to run more adverts and differentiate yourself from the competition. However, it is not without consequences, so the majority of marketers consider it best practice to disable it.
Now that you understand the basics ad the fundamentals of Google Search Partners and how it operates, you can start by reading ahead and understanding in greater depth how this particular service exactly works. You will also learn a great deal about how you, as an online business, can leverage these invaluable services of Google to boost your web traffic by a tremendous percentage.
Google Search Partners: A Deeper Analysis
The Google Search Network and the Google Display Network comprise the entirety of Google's network. Web traffic and ad positioning inside the search network are subsequently subdivided between searches on Google's own search engine and then searches on Search Partners' sites. The search engine results pages that we're all accustomed to are produced by searches made on the real Google search engine. This is the crux of every PPC advertiser's key marketing initiatives.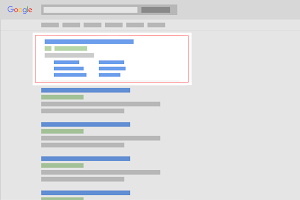 The classic Google search ads show at the top of the SERP
To top it all off, Google lets bigger clients of the Google Search Partners system utilise the Google Custom Search Engine ( or shortly, Google CSE) to enhance their respective websites easier to browse and search. The true strength of the Google Search Partners network manifests itself in these CSE queries. Google Custom Search Engine (CSE) is used by large sites such as The New York Times, The Guardian, and W3Schools to drive their website searches.
Let's end all this with a bang, as you'd be surprised to know that on the Google Custom Search Engine, there are more than 506,000 live websites, running currently!
Top 3 Misconceptions About Google Search Partners
Before we start learning about how Google Search Partners can be leveraged for our online business marketing purposes, we should first get rid of common misconceptions that may have arisen due to limited information on this subject. Little knowledge is a dangerous thing, and it is especially applicable to matters as broad as working with high-Populus data, such as the one that Google possesses.
All Sites Included Are Smaller Search Engines
Even though the name of this Google service is Google 'Search' Partner, it does not only include search engines similar to itself but many other websites.
In Google's own definition, "Sites in the Search Network that partner with Google to show ads. Search partners extend the reach of Google Search ads to hundreds of non-Google websites, YouTube, and other Google sites. On search partners' sites, your ads can appear on search results pages, on-site directory pages, or on other pages related to a person's search."
Only Orthodox Search Campaigns Reserve Spots For Search Partners
No, instead of traditional search campaigns, Google Search Partners are increasingly becoming rather popular and effective for shopping campaigns. E-commerce is an ever-booming industry and online shopping is only here to stay.
Search Partner's Previous Failing Track Record Does Not Reflect The Tracktion It Brings Now
In actuality, so much may vary with Google Ads in such a short period of time that it is worthwhile to test and evaluate various aspects. Google implemented Smart Bidding for search partner sites in October 2018, with the objective of boosting conversions at a similar CPC to Google Search. If your efforts had previously prohibited search partners, this alone may justify additional tests.
What Negatives Are There To Search Partner? (If Any)
This really is one subject on which consumers appear to be deeply split. You'll find complaints about Search partners across the Web, which makes it difficult to determine what to verify. People disagree with Search Partners since they include sites where people scroll down via categories to find a search. In other words, Search Partners records click for people who did not explicitly put in a search.
There is also a tremendous lack of transparency in this. Unlike the rest of Google Advertising, information regarding where ads appear on the Search Partners network is limited. By removing advertisements with subpar performance and sensitive or contentious material from display campaigns, we prevent them from appearing. Because there is limited openness about where advertising is displayed, this is not feasible for search ads served on the Search Partners network.
Lack of control is yet another problem with Google Search Partners. This element makes advertisers wary of the Search Partners network as the lack of authority over the ad auction in the network is irritable. On the Google Search Partners network, bid modifiers are not permitted. Adding to that, parked domains are also part of Google's Search Partners network. These are web addresses that individuals acquired but never utilised. That is, you may spend advertising dollars without real people seeing them. When incorporating the Partner Network, these domains should be omitted.
Major Benefits of Google Search Partner

Marketing on search partner sites has several obvious advantages, such as a cheaper median CPC. And, based on what you're selling, you can get a lot of clicks. Nevertheless, using search partners necessitates maintaining a careful check on the success of Keywords in your campaign that are displayed on search partner sites. If your advertisement appears on search partner sites with a poor conversion rate, unwanted clicks might deplete your investment.
According to Google, advertising on search partner sites have no effect on your keyword Quality Score, which implies that poor search partner CTRs have no effect on your average CPC. Poor CTRs from search partner advertisements, on the other hand, will distort your campaign's total performance metrics.
Most businesses will benefit from Google Search Partners' marketing strategies because it is another approach to getting your ad in front of relevant consumers. Of course, you should always utilise your own data and analysis to ensure that it is working for you, as well as be aware of some of the drawbacks associated with this function. Majorly because on search partner sites, your ads and listings can appear on search results pages, site directory pages, or other pages related to a person's search.
Conclusion: How Worth Are Google Search Partners?
So we've finished our little tour of the Google Search Partner Network. We've discussed some of the advantages and disadvantages of employing, relying on, and improving your Google Search Partner campaigns. We've even gone over a few brief pointers on how to get the most out of your Search Partner performance so you don't find up alone in the dark if you go up this blind alley or down that dead end.
What to do next then? That is all up to you. It's now up to you to go make the most of your Google Search Partner presence.