Long-Tail or Short-Tail Keywords and How to Find Them?
Long-Tail or Short-Tail Keywords and How to Find Them
Keyword research is no exception to the ongoing evolution of SEO best practices. Only when you believe that using famous phrases on your website would boost your SEO, do you learn that it's no longer enough to attract organic traffic to your site. Keywords are a critical component of any effective SEO plan. Keywords in the on-page material can assist search engines in fully understanding your website and offer relevant information in response to a suitable search term.
Your keywords must be utilised sparingly and in a manner so they are nearly undetectable and organic to your visitors, or else your SEO will be utterly counter-productive. The Google AdWords Keyword Planner is one of the most used tools for keyword research. It's a free online tool (a Google Adwords account is necessary) that gives you keyword recommendations as well as vital information like the estimated numbers of pay-per-click marketing efforts, competition, and annual worldwide and local queries.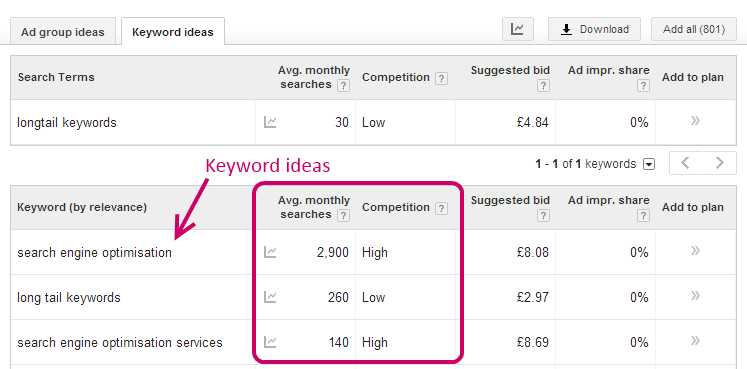 A keyword strategy, when performed correctly, may assist your website in ranking well in search engine results and entice potential, pertinent traffic to your site. The first organically achieved results in Google Search have a median clickthrough rate of 28.5%, thus improving for the appropriate keywords may significantly increase organic website visitors. Keywords are divided into two categories: short-tail and long-tail. Each can be used independently or in conjunction with the other, but they have distinct user purposes and will provide different effects. Let's go through the distinctions between long-tail and short-tail keywords and determine which is best for producing results for your company.
Now let's take a better look at the short-tail and long-tail keywords and how you can find them.
What Are Short-Tail Keywords?
A short-tail keyword often referred to as a 'head term,' is a wide search phrase that generally consists of 1-3 words. Short-tail keywords often have more search traffic than long-tail keywords, attracting more page visits. While head phrases can generate a lot of traffic, it's not always of great quality because it's a general search that may not suit the proper user intent for your product/service, which can result in low organic traffic and a higher bounce rate. Short-tail keywords are also significantly more aggressive, making ranking for these phrases more challenging, particularly if your website has low online visibility. It's vital to note that there are several ranking variables, and keywords are simply one of them. That is why it is critical to have a thorough SEO strategy that covers all bases.
What Are Long-Tail Keywords?
Long tail keywords are similar to a woodland bear. They might be latent for a long time, but once they are employed, they are usually lethal. As you'll see, there's not much else competing with these keywords, much like the bear in the forest.
A long-tail keyword, on the other hand, differs from a short-tail keyword. Long tail words are phrases that comprise more than three words. They are unquestionably more focused and not as wide. You may not get as much search traffic from long-tail keywords, but the traffic you do get is the right type. Long-tail keywords include phrases such as "summer women's athletic clothes," "super Blu Ray HD DVD combo player," and "white diamond engagement ring." Long tail keywords are obviously more specialised than short tail keywords; as a marketer, this might work extremely well for you. However, both sorts of keywords have advantages and disadvantages.
Short-Tail vs Long-Tail Keywords (there's also medium-tail)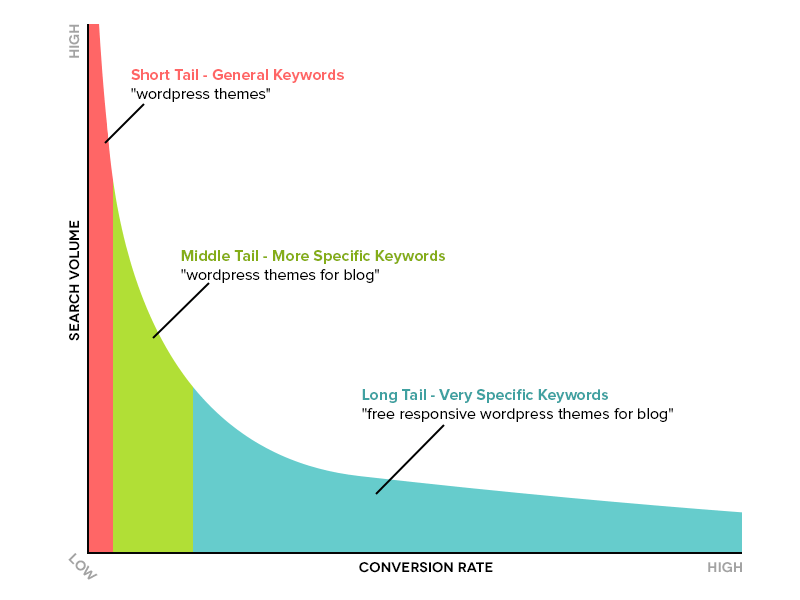 Long-tail keywords may seem paradoxical to an SEO novice; but, when it relates to keyword complexity and competition—both critical criteria for SERP standings offer a significant advantage over short-tail keywords.
Keyword Difficulty
You may use Ahrefs' Free Keyword Difficulty Checker to see how difficult it is to rank among the top ten ranking webpages for a specific keyword. The difficulty of keywords is graded on a scale of 0-100. If the keyword ranks below 30, we recommend going for it! However, acquiring organic traffic between 31 and 70 will be difficult. If anything rates higher than 71, it isn't worth your attention. On the plus side, the limited amount of long tail keyword searches work in your favour—it is much simpler to rank better and obtain attention.
Keyword Competition
A keyword research tool may also tell you how much marketers are spending on advertising in the search results for a specific keyword. Likewise, the stronger the keyword rivalry, the more famous the keyword (and the more expensive it will be to bid on an ad). Long tail keywords are definitely the best way to maximise your marketing spending. You'll get a better ranking place for less money because there are fewer individuals who bid on these keywords.
Difference Between Short-Tail & Long-Tail Keywords
To conclude, the primary distinction between long-tail and short-tail keywords is that short-tail keywords have much more search volume, are more general and aggressive, and provide lower conversion rates in general. Long-tail keywords, on the other hand, have lower search volume, are more precise, might be less competitive, and have greater conversion rates. Long-tail search queries, in fact, have a 3-5% higher clickthrough rate!
| Short-Tail Keywords | Long-Tail Keywords |
| --- | --- |
| High search volume | Low search volume |
| Less than two words | More than three words |
| High competition in the SERPs | Low competition in the SERPs |
| Low conversion rates | High conversion rates |
| Generic search terms | Specific search terms |
What Would A Short & Long-Tail Search Look Like
Assume somebody wants to purchase a new pair of sneakers. When people start their initial internet search and are unsure of what they are searching for, they may put a general phrase into the search field, such as running trainers. If someone understands exactly what they want, they may choose a long-tail term that contains additional specificity, such as long-distance running shoes for high arches, demonstrating a greater level of purpose. The amount of depth in the search determines how pertinent the search results are to the user's goal.
There is benefit in both sorts, but whichever keywords you employ, try to use them carefully and avoid over-optimizing your content, as this may result in a Google penalty and a drop in your ranks. Hiring a skilled SEO content writer is critical in this situation.
Is It Wise To Still Target Short-Tail Keywords?

Although short-tail keywords are typically incredibly competitive, this does not imply you should ignore them. And besides, it is still probable that the majority of search engine visitors to your site will originate from short inquiries.
Despite long-tail keyword searches being more probable to generate useful traffic (i.e., visitors who eventually become customers), short-tail keywords are still vital for generating traffic to your website and boosting brand recognition.
How To Find Short or Long Tail Keywords?
If you're looking for an SEO tool that doesn't require a monthly membership, BiQ Cloud is the answer. You can even start using them for free! Simply enter your term into their Keyword Intelligence and you will be presented with a selection of keywords that are ready to be used. Use their sophisticated filters to filter the keywords if you just want to view long-tail keywords. The same is true for short-tail keywords; simply filter them depending on your requirements.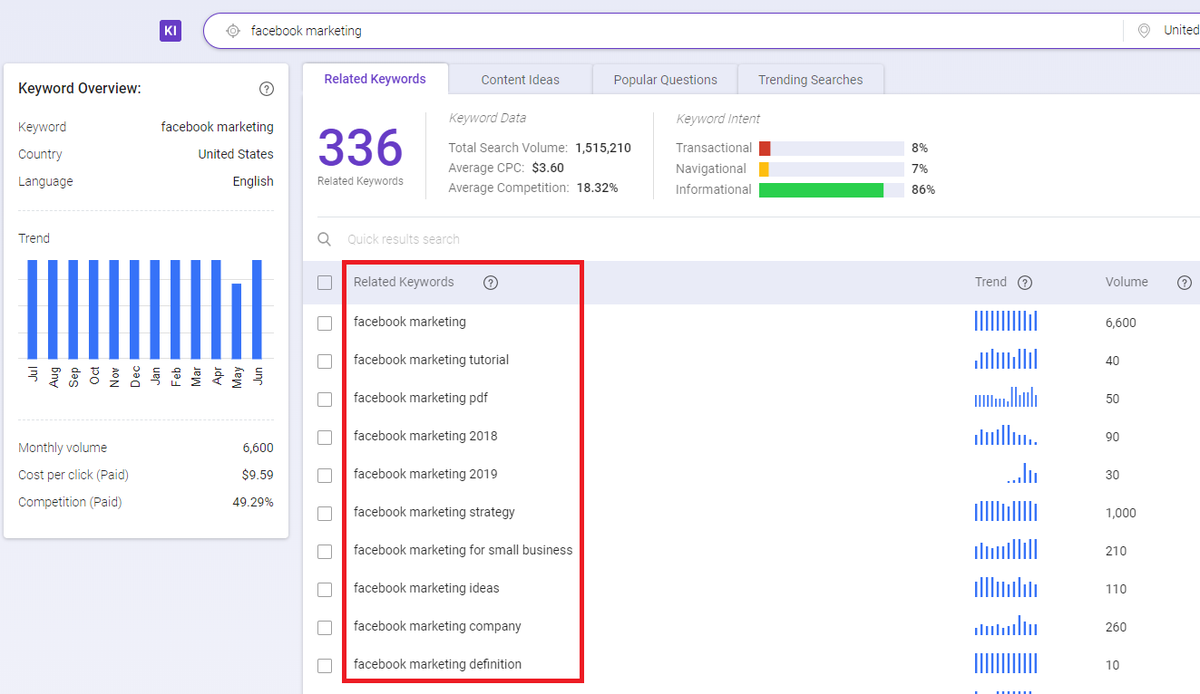 You'll not only receive thematically relevant terms, but you'll also get compelling content, rising searches, and common inquiries that your customers are genuinely seeking. These promotions are for those of you looking for the next excellent blog to write about. Trending searches are for those of us who would like to stay up to date on the newest news and queries that your leads generate on search engines. Typical inquiries are for those of us who want to learn more about the sorts of questions people ask about your subject.
Verdict: Should You Use Short-Tail or Long-Tail Keywords After All?
As a company, you must determine which phrases are the most addressable and ideal consumers. After all, you are the expert in your industry. Nevertheless, whenever it comes to establishing your SEO campaign and selecting the best long and short-term phrases, we always advocate enlisting the help of specialists. Our SEO experts can assist you in navigating the ever-changing search landscape and identifying achievable keywords with the opportunity to rank while eliminating any unachievable or unnecessary terms. A good keyword strategy can help you achieve long-term profitability.