Ahrefs Vs KWfinder Which Keyword Research Tool Is Better?
Ahrefs Vs KWfinder: Which Keyword Research Tool Is Better?
Employing the correct keywords assists the user in finding your material. Once identified, the value of your material is what keeps people interested and engaged. As a result, you must utilise SEO (Search Engine Optimization) tactics to guarantee that your content ranks high in online searches. You must include relevant keywords in your article to do this. "How can I locate the proper keywords?" may be the next question that comes to mind. The solution is simple: you utilise a keyword research tool and a keyword planner tool. These tools might help you generate keyword suggestions based on popular searches for your field.
It goes without saying that keyword research is essential for the success of any SEO effort. To that end, SEO experts want a good keyword research tool to determine which phrases to target. When it comes to determining the finest keyword research tool in the industry, the battle between KWFinder and Ahrefs appears to be a good one. It is a reasonable comparison because they share many similarities as well as significant unique traits. So the issue is, which should you use?
In this article, we will explore both of these keyword research tools, compare them, and understand them deeply. This way, you can make sure that you are making the right choice when it comes to conducting your SEO keyword research, using a tool.
What Is Ahrefs?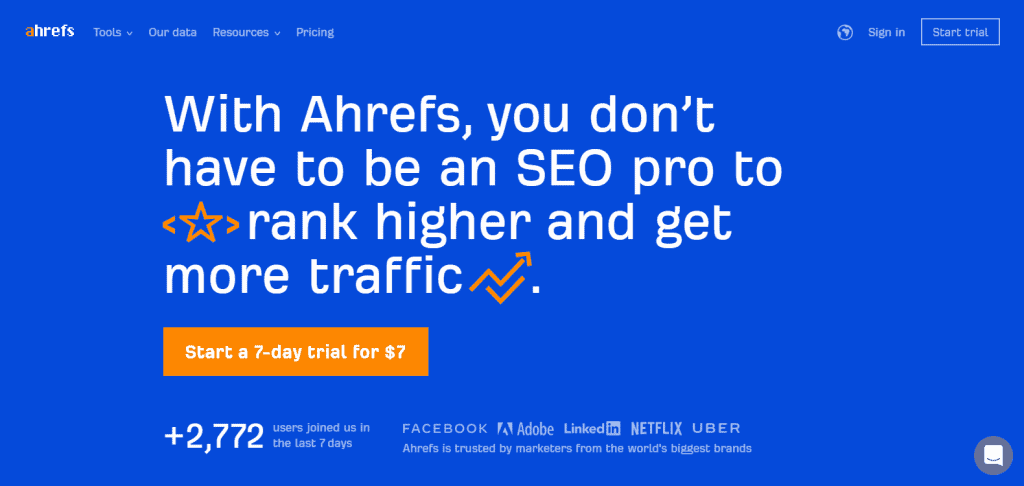 Ahrefs is a cloud-based SEO keyword research tool with a variety of features aimed at increasing your online visibility. Aside from the Keyword Explorer function, Ahrefs offers solutions for optimising a website's on-page monitoring, content optimization, and competition analysis. In other words, Ahrefs is a complete SEO tool that has all of the information you might want to score higher on Google's SERPs. It includes all of the necessary aspects of a keyword research tool, such as keyword complexity score, search volume, and traffic possibilities.
Now that we have some perspective of Ahrefs, let's run down some of its key features, that make it unique. By studying these features of both the keyword research tools mentioned in this article, you will be able to better make up your mind about which one of these tools to implement for your own website or blog.
Ahrefs' Site Audit

Site Audit is in charge of identifying on-page bottlenecks that keep your website from ranking better in search engine results pages, or SERPs. There are many features within the 'Site Audit' main feature of the Ahrefs keyword research tool. These features allow the users much more flexibility, and they are as follows:
Site Audit may be configured to analyse all of your pages for you. It removes the need to go through each page individually.
This function provides you with an SEO rating so you can see how healthy your website is at a glimpse.
Site Audit looks for over 100 already designed SEO concerns such as page load time, content quality, linkages, and other well-known SEO parameters.
When Site Audit scans through a page, it not only displays a list of issues but also shows you how to resolve the issues.
You may tinker with Ahrefs data and insert your own parameters to achieve more intricate and thorough results.
Site Explorer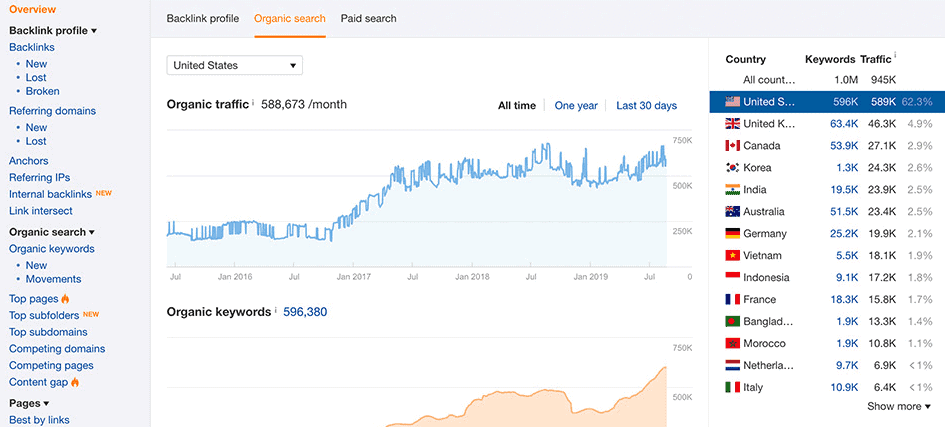 Site Explorer allows you to view critical facts about any website, whether it's yours or a competitor's. You can find out what keywords your competition ranks for as well as which pages give them the most site traffic by using site explorer. Ahrefs' Site Explorer also displays which domains are linked to your rivals. This is particularly beneficial for link-building initiatives. Its paid advertising function will assist you in better understanding the paid search advertising approach of your competitors.
Content Explorer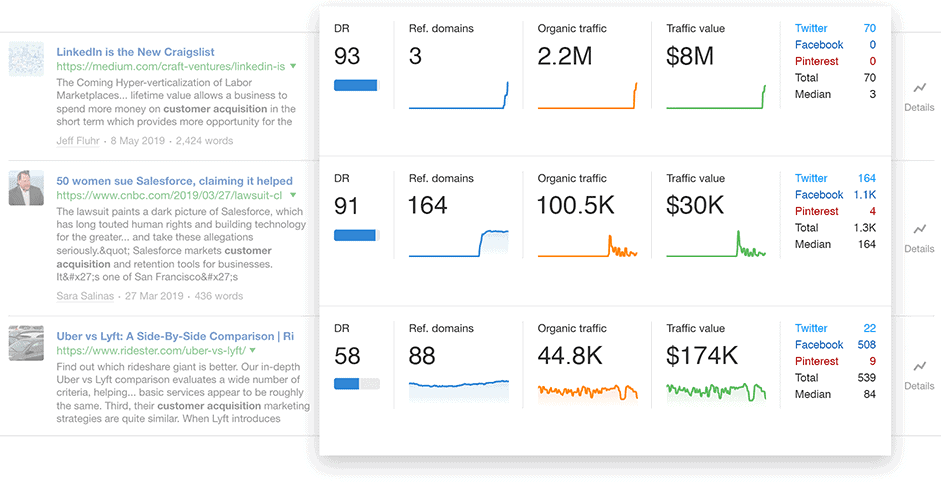 Your content is as vital as the keywords for which you optimise your site. As a result, having the correct feature to assist you with any content-related problem is critical. Fortunately, Ahrefs has a function called Content Explorer that is designed specifically for this purpose. You may examine a page's Domain Rating, the number of referring domains, organic traffic, social media metrics, and other essential information at a glance. Nevertheless, you may utilise it to figure out what type of content performs best for your competitors.
What Is KWfinder?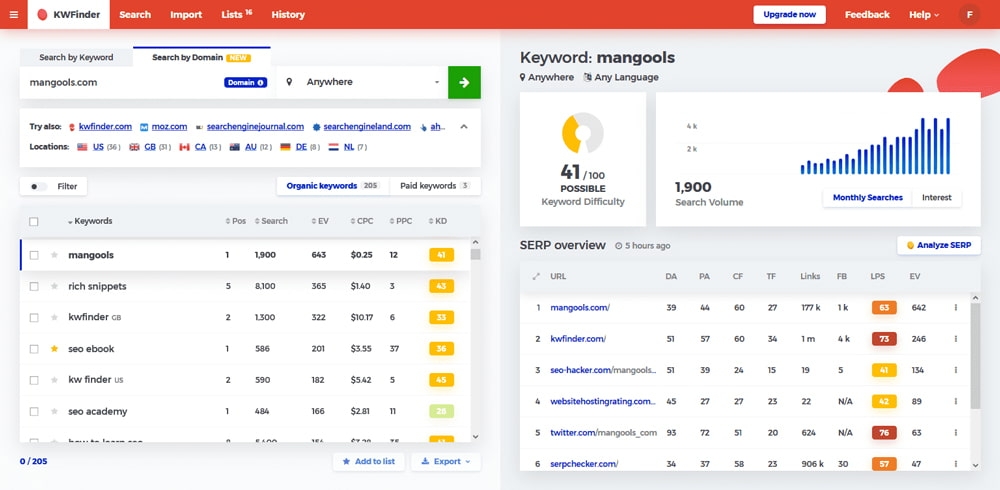 KWFinder is run and maintained by a small private corporation in Bratislava, Slovakia. It is included in the Mangools suite's range of SEO tools. That works effectively, though, because it caters to a novice target group and offers only the essential features at an amazing quality rate. The organisation wants to make it easy for its consumers, also known as its perfect target audience, to identify various useful keywords.
What distinguishes KWFinder from its competitors is its low cost and ease of use. Let's have a look at some of its characteristics. Keywords may be readily found by searching for them and choosing the location. Then, KWFinder will display a list of all relevant keywords to you. Furthermore, you may search by domain. The nicest aspect is that the stats for each relevant term are shown beside it. This is enabled by a function known as the SERP checker. You can also use the SERPWatcher function to track the ranking of your pages. It gathers all of your data and displays it in the sequence of greatest to worst performing sites.
The fact is that not everyone is searching for a full SEO tool that can do hard tasks such as site audits and content analysis. If you're new to the bright world of SEO, a tool like Ahrefs is likely to be daunting. That's because it's jam-packed with capabilities you probably don't need right now. So, if all you need is a simple (but extremely accurate) tool to determine whether or not you have a chance to rank for the keywords you're interested in… You'll enjoy KWFinder. KWFinder prioritises usability, so you won't need to attend SEO school to figure out how to use it. It also features a highly user-friendly interface:

Top Features of KWfinder
SERP Checker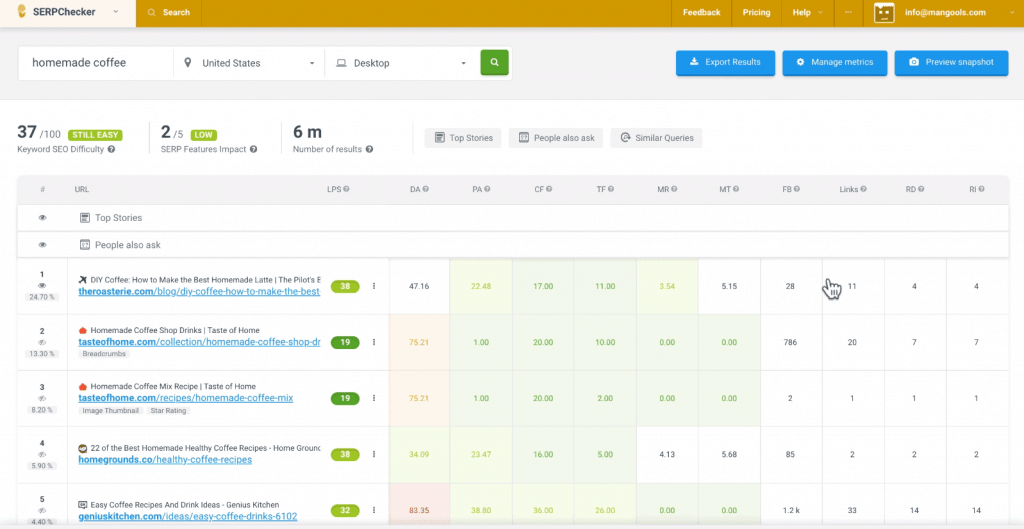 SERPChecker allows you to see your competitors' ranks for a certain area, whether on mobile or desktop. This is a useful option to have, particularly if you or your customer is a local business trying to boost its visibility in local listings. Simply input your target term to discover the top-performing pages, along with important information such as the page's Domain Authority and Page Authority.
SERP Watcher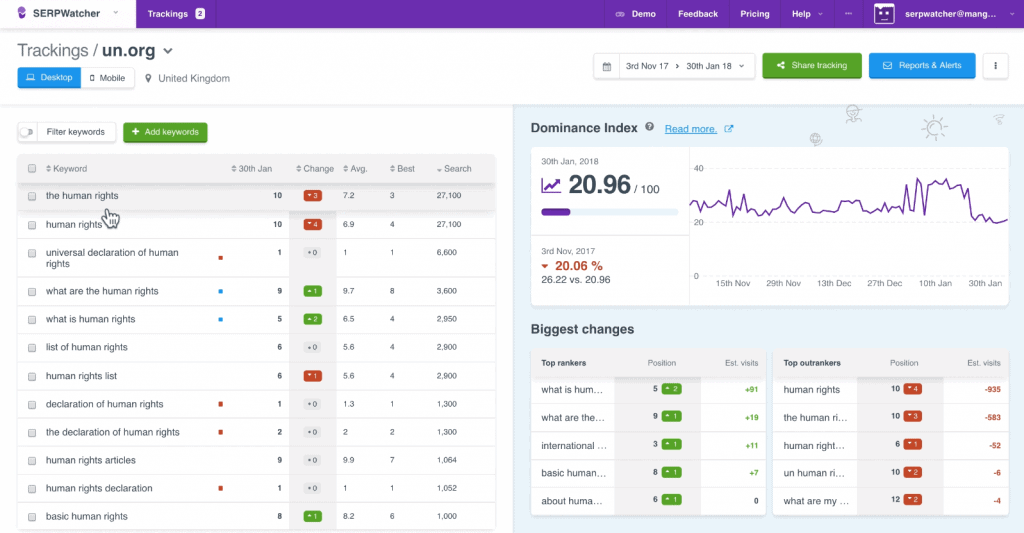 Do you want to know how well your pages rank in the SERPs? If so, you're in luck. SERPWatcher is included with Mangools plans. You may now check your site to see whether your pages are ranking for the keywords you wish to target. All you have to do is type in your keywords. After SERPWatcher has compiled the data, it will display where your pages rank. You'll also know whether your sites rose or fell in the SERPs.
Link Miner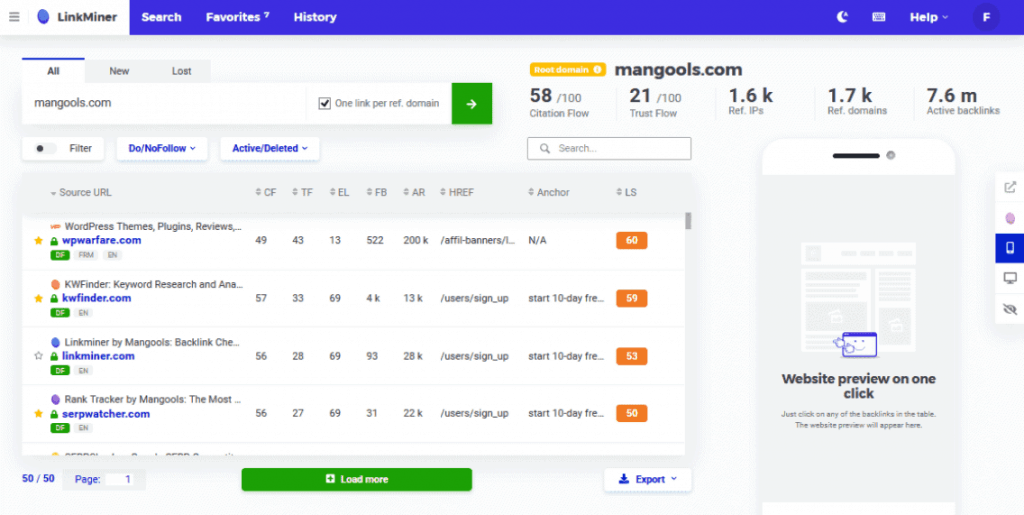 Mangools' backlink tool is LinkMiner. Link-building options for your domain can be found here. One can also see where the linked domain inserted the anchor text, which can assist you in comprehending how your opponent obtained the connection. If you come across any domains worth approaching in the future, you may save the URLs and keep a list of them for further reference.
Site Profiler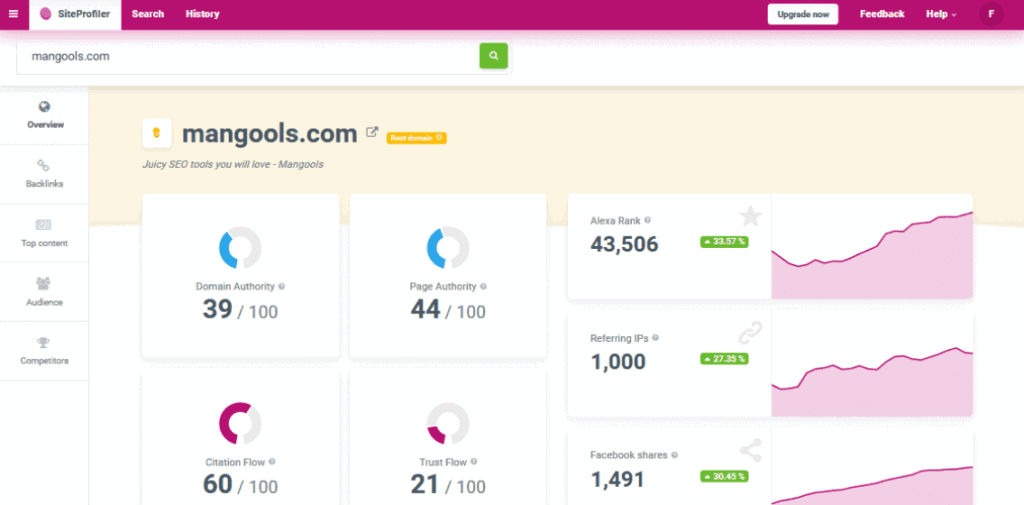 Domains having a high level of authority rank higher in search results. SiteProfiler may provide a quick snapshot of a site's critical SEO data. Enter any site and you'll instantly see its Domain Authority, Page Authority, Citation Flow, and Trust Flow. Simply said, this feature combines the capabilities of all of the Mangools items discussed above. You may look at the website's backlink profile, top content, and rivals. However, with SiteProfiler, you can get all of this information in one place.
Ahrefs vs KWfinder: Which One Should You Choose?
User Interface Comparison Between Ahrefs & KWfinder
Both Ahrefs and KWFinder offer user-friendly interfaces. While researching keywords, all you must do is punch in a seed term, and you'll have all the information you need on one screen. Here's how the Ahref user interface looks when it comes to tracking your insights.

The KWfinder interface looks strikingly similar:

If you're a content strategy constructing a full editorial schedule that includes when your website entries may be anticipated to rank on Google's first page, you'll need placement records. If you're a regular blogger or associate marketer who just wants to see if a term is feasible, all that data might be overwhelming.
How does the keyword research compare between the two keyword research tools?
When it finally comes down t it, the main thing that matters is that the tool works efficiently and perfectly well, so that it delivers what it promises its customers. This is how to build trust and gain repetitive customers. Both Ahrefs and KWfinder have built tremendous trust in the marketplace when it comes to performance. But how do these two tools compare when it comes to keyword suggestions?
How many keyword ideas can your selected tool provide? Naturally, the concept of "the more, the merrier" applies to keyword ideas. When designing your keywords and content, you'll want as many ideas as possible. So, let's analyse how well these programmes do in terms of keyword recommendations. Ahref's results for the search "marketing" include 2,138,416 keywords, but KWfinder has just 299 keywords! That's a huge difference and Ahrefs wins this battle for sure. "Marketing" is a popular keyword in general and this should not have such poor results on KWfinder. There's got to be an explanation for this right? There is.
Pricing Difference
Whenever it comes to the sheer volume of keyword ideas, Ahrefs easily outperforms all other SEO tools. But there is one thing to keep in mind. The number of rows of keyword recommendations you may view is determined by the Ahrefs price plan you select. For example, if you choose their most basic Lite plan for $99 a month, you will only be able to view 200,000 rows (still impressive, though). You may see 5 million rows if you choose their most expensive Agency plan, which costs $999 per month. The same may be said about KWFinder. With their lowest package, which costs $29.90, you can only see 200 of 700 keyword recommendations. You'll be able to examine all 700 of the 700 keyword recommendations with their most expensive agency plan.
Ahrefs vs KWfinder: What Are The Similarities?
Let's get a few additional commonalities out of the way before we get into their keyword research capacity. Backlink research, rank monitoring, and competitor analysis are all characteristics shared by Ahrefs and KWFinder. You may utilise Ahrefs and Mangools tools to learn more about your competitor's domain and pages.