What Are the Different SEO Authority Scores DA, DR, TF & CF Explained!?
What Are the Different SEO Authority Scores? DA, DR, TF & CF Explained!
No matter how much you concur with the concepts of website analytics, it is critical to measure your website against your competition and watch how you develop and grow over time. If proper methods are employed, the rise will effectively reflect your achievements. Search Engine Optimization (SEO) is all about that; making you rank higher than your competition.
There is an exceedingly long list of all the criteria that influence your Google Search Engine ranking. Google offers its own quality search rating rules, which are often updated and well worth a look. However, with such a long list, it's difficult to keep track of your techniques and understand what to search for in order to increase your rating. So it is crucial that we segregate them into major factors as recognized universally for SEO.
The major factors include Domain Authority (DA), Domain Rating (DR), Trust Flow (TF) and Citation Flow (CF). Let's break down each of them turn by turn and get to the bottom of search engine optimization.
But first, let's take a look at what is 'page rank,' as recognized by Google for its search results ranking. Page rank is helpful to understand where your website will rank in the search results.
The History Of Page Rank
Because PageRank was created by Larry Page and Sergey Brin, co-founders of Google when they were at Stanford University, the copyright is really in the name of Stanford. They got 1.8 million shares in Google in exchange for exclusive licence rights to the invention, which the institution sold for more than $330 million in 2005, the same year YouTube was founded. Currently, there are over 200 ranking elements that influence how a site ranks in Google's SERPs, and hyperlinks are one of them.
In terms of typical SEO, PageRank was a graphical portrayal of a logarithmic scale from 0 to 10 that was presented on the PageRank toolbar. A PageRank score of 0 represents a website which would NOT perform well in SEO, whilst a ten-point rating represents the most credible sites on the internet. The essence of comprehending PageRank rankings is that they are calculated on a logarithmic scale, which is why they are reliable.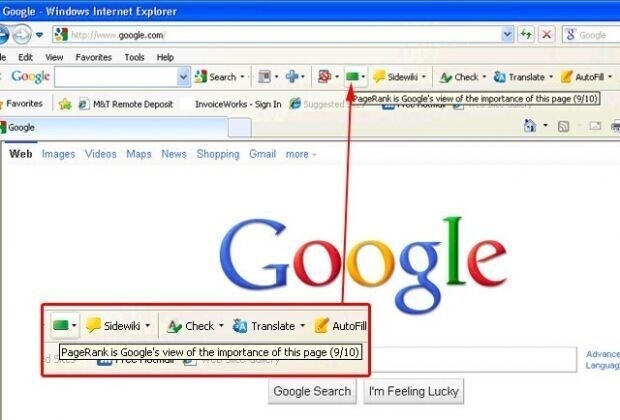 The logarithmic scale is reliable because the way it works is purely mathematical. A logarithmic scale is a method of compactly showing statistical data over a broad range of values—typically, the greatest numbers in the data are hundreds or even thousands of times bigger than the smallest numbers.
Does PageRank Still Matter In 2022?
PageRank still is relevant in 2021. Even though there is no more a widget that displays a web page's PageRank rating, it is still utilised practically. PageRank never really died, and learning how it functions will only make you better at SEO. If you haven't already, you must definitely read Google's original report, and you will know how PageRank is still relevant for today's search engine optimization.
What is Domain Authority (DA)?
DA refers to your webpage domain authority. Domain authority is a search engine ranking score, created by Moz, which forecasts how highly a site will position on search engine result pages, also known as SERPs. A Domain Authority score goes from one to a hundred, with higher scores indicating a stronger capacity to rank.

On Moz's website, you can find a free tool that helps you get all the SEO metrics necessary to know about your website's authority accurately.
How Is Domain Authority Calculated?
The most effective strategy to alter the Domain Authority indicator is to enhance your site's general SEO health, with a special emphasis on the quantity and more importantly, quality of backlinks going to your website. Since the Domain Authority collects so much information, it might be hard to alter effectively. Because Google analyses so many rating criteria in calculating its ranks, a measure that attempts to mimic its decisions must integrate a comparable degree and complexity of elements.
What is Domain Rating (DR)?
Ahrefs, one of the popular SEO tools available online has a Domain Rating rating, which is comparable to Moz's Domain Authority (DA). External links to your website are used to develop your reputation, particularly in terms of backlink amount and quality. Finally, it analyses your number of backlinks to the volume of backlinks on other websites to get your Domain Rating. One easy way to do this is entering hyperlinks to your own website, but that would only lead to temporary gains in domain rating as the existing viewers of your website would be redirected to several different web pages of your own website. This would improve your domain authority slightly and temporarily.
What Is Trust Flow (TF)?
Majestic SEO created the Trust Flow (TF) statistic. The TF score number represents the quality of the websites that connect to the site, indicating a page's "trustworthiness" for lack of better terms.
Until recently, Moz's Domain Authority (DA) measure was notoriously unreliable, with its crawler discovering just a per cent of the backlinks discovered by Majestic's crawler. This has recently been addressed by Moz's new "Link Explorer," a tool that considerably expands the Moz index. In other words, Domain Authority can now provide a picture of a site's backlink profile that is nearly as trustworthy as Majestic's Trust Flow. This is how Trust Flow gained its trustworthy reputation (pun intended).
What Is Citation Flow (CF)?
CF is an abbreviation for "Citation Flow." It represents the quantity of "link juice" that a website has and may transfer to a different site via links. Citation Flow is another Majestic SEO tool to measure that, which represents how authentic a domain is on a scale of 0 to 100.
These two measures (Trust Flow and Citation Flow) were developed by Majestic SEO, and although they do not determine your rankings, they do indicate whether your links are doing. This helps you to gradually improve your ranks and subject credibility.
What Is A Good TF/CF Ratio?
Majestic established the notion of TF/CF ratios when it debuted its Trust Flow and Citation Flow measurements. In an essence, it compares the number of hyperlinks from reliable websites to the total number of links. A TF/CF ratio of 1-2 is excellent, according to the business. In other words, despite its excellent stats, a site with a TF of 20 and a CF of 75 may be considered spammy. A website with a TF of 17 and a CF of 24 is deemed far more reliable and hence less likely to incur a penalty if it links to you.

As you can see in the above image, the citation flow of the website is almost double the trust flow score, which is what is considered optimal, when it comes to good SEO practices.
Verdict: How To Improve Your SEO?
Did you know that 93% of Internet encounters begin with a search engine? What occurs when someone searches? The top Google result has a 33% probability of being clicked. That implies that if you're not the top one on the page, you've just lost a third of your prospective traffic. What's more surprising is that 75% of consumers will not even click on the second page of search results! Several websites are ranking better than you on Google because they are consciously working to enhance their SEO. Luckily, it is not too late for you to begin.
If you want people online to find you via Google searches, search engine optimization should be at the top of your list of priorities. You will not be able to attract any traffic to your website if you don't get your SEO right and improve all the factors that affect it. But first, let's speak about the required optimization before we go into hyperlinks. Your website must be immediately responsive. To be evaluated for ranking, your web pages must adjust to multiple devices without problems.
Your page should load in around 0.5-2 seconds. Instead, users will not wait for it to load. This will boost your bounce rate (the ratio of how many people click on your web page link versus how many actually consume the content), which is bad for SEO.
Keeping an eye on your competition is crucial. Especially when it comes to analyzing your competition's domain authority. When you initially start boosting your SEO, don't attempt to compete with large sites. Begin by battling with people who have a comparable Domain Authority as you. You can check this on Moz's website to be sure. Examine their hyperlink profiles to discover where they are getting links from.
Therefore, the key is to keep up with the competition, constantly learn about the key SEO factors that alter your web page's ranking on Google (or other search engines) and be conscious of the biggest sharks in the sea. Hopefully, this article found you well, and your website will rank much higher from now on.