How to Use Google Autocomplete to Extract a Maximum of Keyword Ideas?
How to Use Google Autocomplete to Extract a Maximum of Keyword Ideas
One of Google's earliest search tools, autocomplete, is also one of the most beneficial for optimising organic SEO rankings. Autocomplete is also known as Google Suggest and was formerly known as Google Instant.
Google Autocomplete is a function of Google Search that predicts search terms. For example, if you put 'what is the capital of' into the Google search bar, you will get the most popular search results, related to those keywords. As you proceed to type, the search predictions will update until you find the search word you wish to use. This is one of the most practical tools for both the users who are trying to look up something on Google and also the businesses who would want their search queries to be popular. It is especially hard for businesses to achieve their goals as the popular search queries largely depend on what people are generally looking to find online rather than an SEO or marketing trick.
Before we get into how Google Autocomplete can be utilized to extract a maximum of keyword ideas, we first need to understand what Autocomplete is in the first place and how it works. On that note, let's dive in!
What Is Google Autocomplete?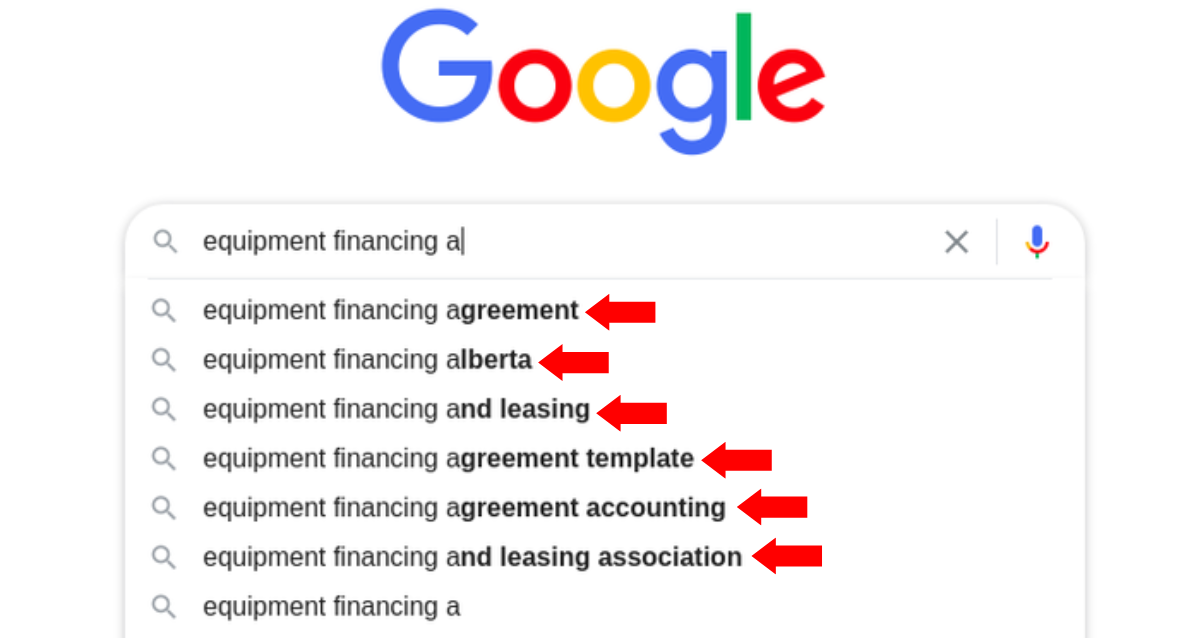 Created from a consumer point of view, Autocomplete is a Google Search function that helps you complete queries that you begin typing. Our automated methods create recommendations that save consumers time by allowing them to swiftly complete the search they had already planned to perform.
How does Autocomplete Differ From Google Trends?
Comparing Google Autocomplete to Google Trends is like comparing apples to oranges. Just like both apples and oranges are fruits, but completely different, Autocomplete and Trends are both SEO tools, but with totally different use cases.
Autocomplete is a useful yet time-consuming function. It does not merely present the most frequently asked questions on a certain topic. As a result, it differs from and should not be compared to Google Trends.
Autocomplete is available almost wherever a Google search box can be seen, such as the Google home page, the Google app for Android and iOS the fast search box inside Android, and the "Omnibox" URL bar inside Google Chrome (although it works with any browser). Simply start typing and you'll see autocomplete predictions appear: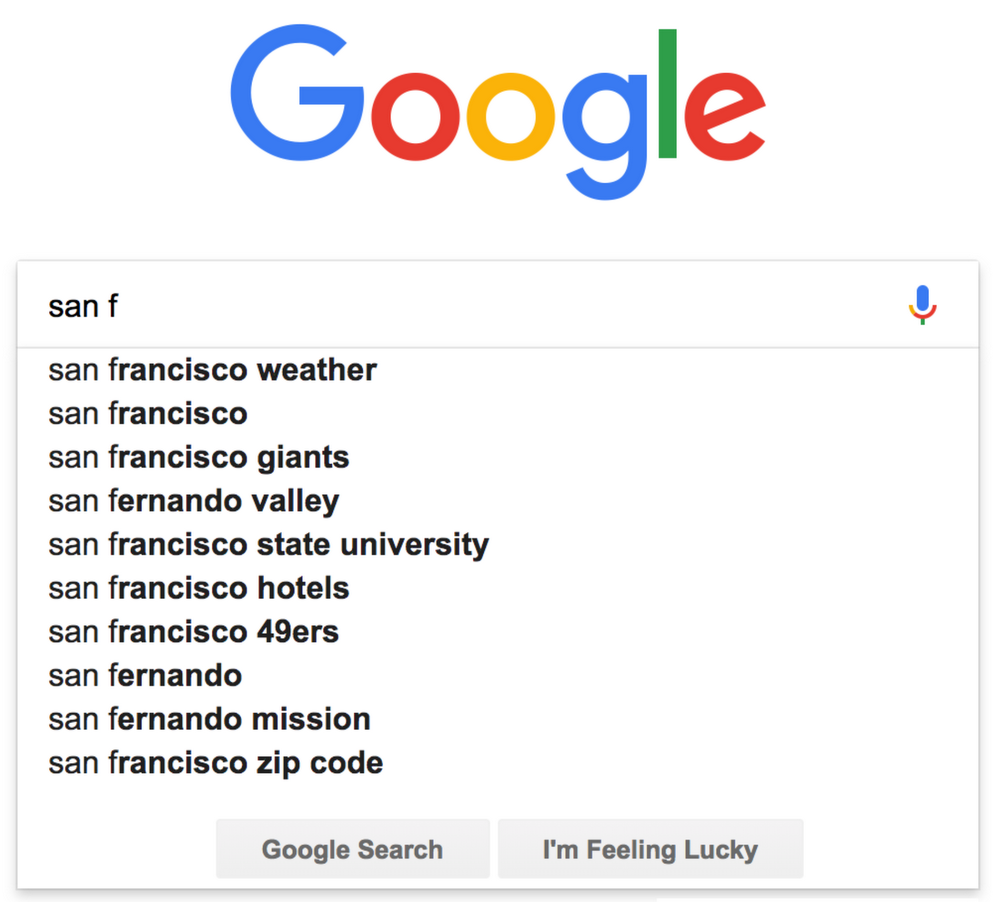 In the above example, as shown in the image, it can be seen that inputting the letters "san f" produces suggestions such as "san francisco weather" or "san fernando mission," making it simple to complete your query on these subjects without entering all the characters. This is how Google Autocomplete is beneficial for the user.
On the other hand, Google Trends is a resource for reporters and others interested in tracking the volume of queries and search subjects over time.
Where Do Autocomplete Predictions Come From?
This is where real SEO work comes into play. Autocomplete recommendations are based on real-world Google searches. Our technologies check for popular questions that match what someone starts typing into the search box to decide what recommendations to present, but they also take into account these four things:
Language of the keywords used
The location where it is searched from
The popularity of the query
Past searches of the user (yes, past searches play the biggest role, as Google's experience is highly personalised)
How Does Google Autocomplete Work?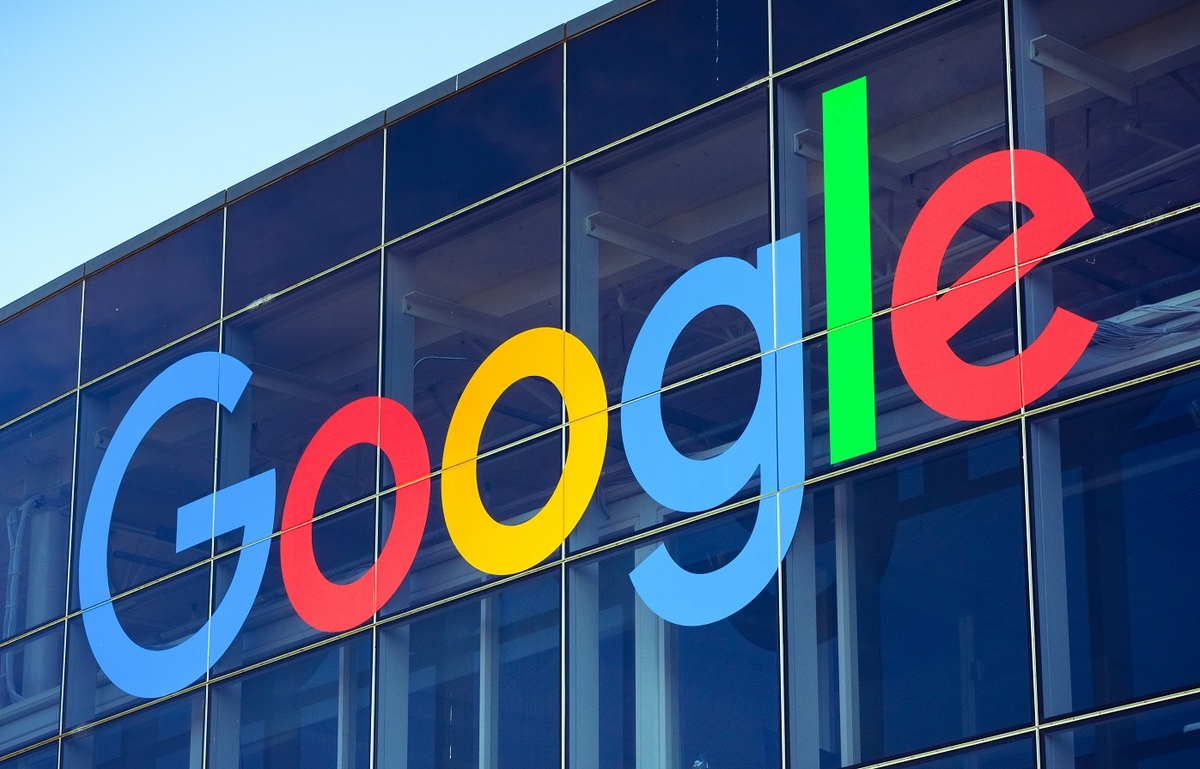 Ex-Googler Kevin Gibbs founded the idea, which was initially dubbed "Google Suggest" by some other ex-Google employee, Marissa Mayer. Google has now dropped the "Suggest" moniker since it does not always provide the most considerate, caring, or suitable forecasts. Google refers to the completion it provides as "predictions," not "suggestions." This is due to the way Autocomplete operates.
Autocomplete is intended to assist users in finishing a phrase they were planning, not to propose a search query, as in everybody's favourite feature of Google Search; "I'm feeling lucky." They make predictions by analyzing popular Google searches, including trending queries that may be relevant. Autocomplete can then swiftly update and respond to new search patterns and news headlines.
Much of Autocomplete functionality is developed by computers using data from millions of other Google searches and their results. Google has also worked hard to eliminate improper or objectionable autocomplete recommendations. This implies that both automatic and human removal techniques can affect which autocomplete options remain.
How Is Google Autocomplete Helpful With SEO?
Google autocomplete is useful for users, but it also enables you to dig into possible keywords that your customers/clients are using to discover the correct product for them. Unlike keyword tools, which do not show all keywords when they do not have large search traffic, Google autocompletes displays lengthy and elevated terms.
For example, Somebody looking for a sofa to relieve back discomfort is not an impulse buyer. They're conscious of their condition and frantically looking to buy a product, making sofa for back pain a high-intent term you may include in your SEO approach.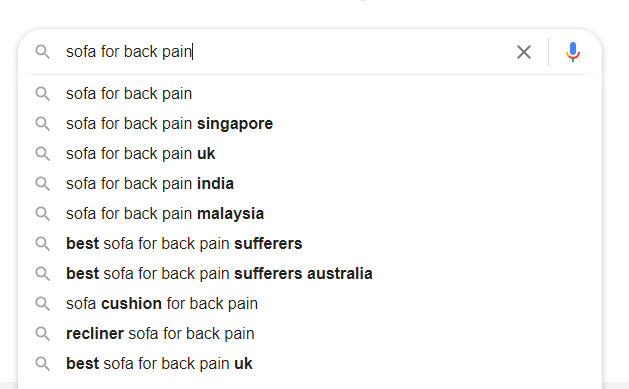 And, in the realm of SEO, in which keyword intent is everything, Google autocomplete is a treasure of lucrative data. What's the best part? Even if your preferred research tool reports a search volume of zero, Google autocomplete will not display the query if it received no traffic. These keywords are worth pursuing.
Pointers to Maximize Your SEO Using Google Autocomplete
Before you begin evaluating Google Autocomplete forecasts for SEO, you must conduct the following three things:
To ensure that your browser history does not impact the predictions you receive, log out of Google or utilise incognito or private mode.
If you are located in a different area than your target audience, use a VPN. For example, if you're now in India but want to target folks in say Australia, use a VPN to appear to be in Australia. You would like to view forecasts for the region of your intended audience.
Modify your language options to match the language preferences of your core demographic.
These criteria will allow you to receive forecasts that are comparable to those displayed to your target audience.
Google Autocomplete Master Pointers To Rocket Your SEO Game
Simply enter a term related to your speciality and examine the forecasts. This study is an excellent technique to identify important long-tail keywords. Then, utilise an SEO tool like Ubersuggest, Ahrefs, or Moz Pro to examine those keywords and determine which ones are worth pursuing.
Conduct Alphabetical Wise Trial & Error
What if you don't agree with any of your predictions? Brett Farmiloe, the founder and CEO of Markitors, recommends typing in your term and afterwards going through the letters to see what recommendations come up.
As an example, he employs the term "equipment financing":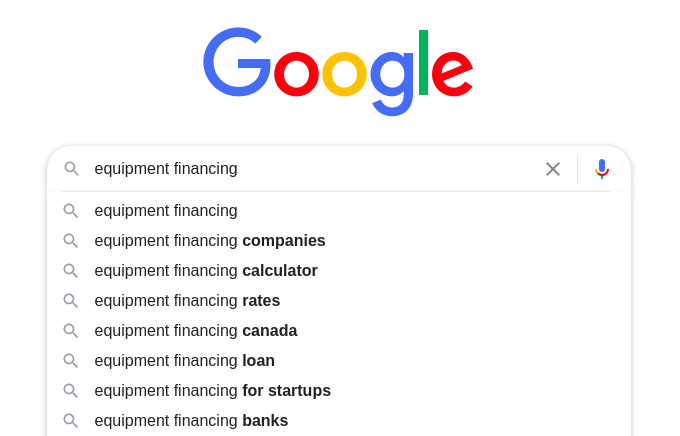 By adding the first letter of the English alphabet, 'a,' into the mix we get: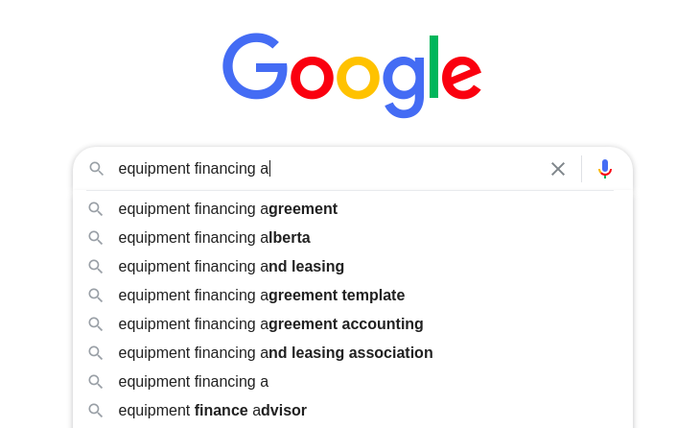 You can then repeat the process by going through 'b', 'c', 'd' etc. until you have gathered as much information on your search query as you can. Begin at A and work your way to Z, gathering Google autocomplete results along the way to create an extensive term list.
Google Autocomplete Modifiers: Ingenguine Way To Gather More Data
This is the point at which you can examine how precise Google autocomplete terms are. If you add a modifier like 'best' to your search, you'll receive a lot more ideas as shown in the image below: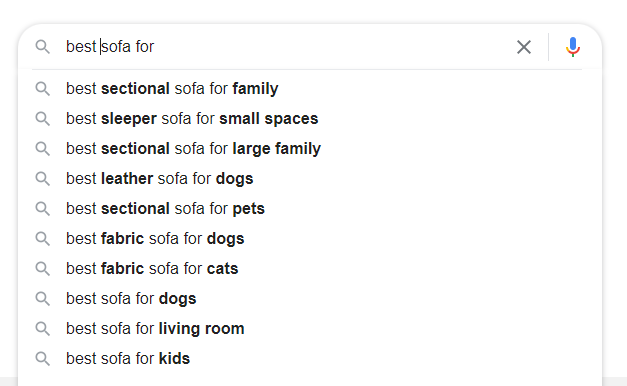 Changing your cursor location is a good approach to acquiring additional terms from Google autocomplete. You've seen what occurs when your cursor is positioned after the final word. However, if you put it after the first word, the results alter. After all, SEO is mostly about intuition and trial and error anyway.
How You Can Shape Your SEO Strategy Using Google Autocomplete
Google Autocomplete may also be used to find results for branded phrases such as business, executive, or brand names. If an unpleasant search term surfaces in the forecasts using your brand phrases, Google Autocomplete might pose major harm to your public image. How would you handle this type of situation? There are several ways.
Identify The Issue
If the unfavourable prognosis is correct, address the issue. The solutions will not instantly resolve the autocomplete issue, but if the problem is resolved, people will forget about it and cease looking for it. As the amount of searches for that phrase decreases, it will eventually be removed from the prediction list.
Improve Your Company's Branding
Again, if the forecast is about an actual tragedy, giving folks something good to focus on will help them forget what happened faster. For example, you may highlight loyal customers on your website, hold a giveaway, or plan an event. Directly connecting with your clients on various social media channels may also help to build a favourable brand image.
Conclusion: Final Options To Maximize Your SEO
Google Autocorrect is a basic tool, but it has the potential to be incredibly effective. From SEO strategy to reputation management, those tips may turbocharge your digital marketing strategies. Google Autocomplete can also recommend local SEO queries that you may not have explored, and it is best to take advantage of these situations and employ the best strategy before your competition.
Of course, if an unfavourable forecast shows next to your or your company's name, it may wreak havoc on your life. It's a good idea to keep a watch on what appears in Google Autocomplete so you can solve any issues as soon as they arise.